Interest

5 Neat Things to Pre-Order This Week (Oct. 23)

posted on

2013-10-23

15:03 EDT by Bamboo Dong
Some cute Sailor Moon figures, cool jackets, and the world's most terrifying Vocaloid figure.
---
Each week we try and find five neat, cool, or weird items available for pre-order. Try these on for size.
1. Petit Chara! Series - Sailor Moon set
These figures are almost too cute to function. Look at their nubby little legs and their sweet cherubic faces!
This entire set can be bought for 2,350 yen (~$24) with an expected ship date of January 2014.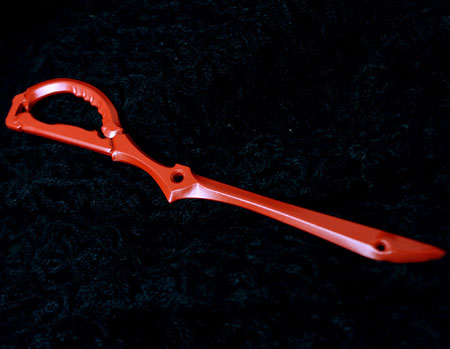 We posted about this a couple days ago, but it's neat enough it ought to be featured twice. This letter opener measures a good 15 cm (~6") and probably makes opening bills way more fun.
It can be bought for 2,040 yen ($20) and is expected to ship in December.
Let Calne Ca haunt your nightmares forever. Based on this video variant of Calne Ca, who is already a terrifying mechanized skeleton in the shape of Miku, this almost-10" figure is both horrifying and oddly beautiful. Just don't blame us if you can never sleep ever again.
This figure is selling for 10,714 yen ($109) and is expected to ship in late January 2014.
Kaiyodo's latest in the Revoltech line is none other than Hello Kitty, who is highly articulated and comes with some super cute accessories. She comes in at 60 mm (2.4") in height, with two heads to choose from. Bonus, having an extra Hello Kitty head floating around the house.
Hello Kitty can be bought for 1,600 yen ($16.50) and is expected to ship in December.
5. Mobile Suit Gundam UC "Londo Bell" MA-1 type jacket
Join the Londo Bell Corps with this sweet jacket modeled after the classic MA-1 bomber jacket, with inspirations taken from the US Navy G-8 flight jacket. As far as functional, anime-inspired clothing goes, this one's pretty top notch.
It also has a price point to match, with a retail price (after tax) of 29,400 yen ($302), but it'll probably last a while. It's scheduled to be released February 2014.
---