Interest

Madoka Magica Crane Game Yields Figures and Corn Snacks

posted on

2013-10-24

13:39 EDT by Bamboo Dong
---
Head to any number of participating Japanese Namco arcades and you could try your hand at nabbing their latest Puella Magi Madoka Magica crane game prizes—Umaibo puffed corn snacks (packaged with special clear file folders).
These specially-packaged Umaibo, which feature the mascot Umaemon dressed as the various Madoka Magica girls, come in cheese flavor and beef tongue flavor. Each also comes packaged with one of two exclusive A4 size clear files.
Of course, if you want more standard crane game prizes, you can also try to nab specially stocked clear posters, or try and complete a set of Madoka Magica figurines.
Later this month, arcade-goers can also try their hand at nabbing these special crane-game A4-size clear files. The first three will be stocked starting October 25, with the last three being stocked starting November 8.
Also, any visitors to participating Namco arcades will get one of these die cut Madoka Magica postcards on a first-come, first-served basis. Visitors who bring in their ticket stub from the third Madoka Magica movie, Rebellion, will receive the special Kyubey postcard.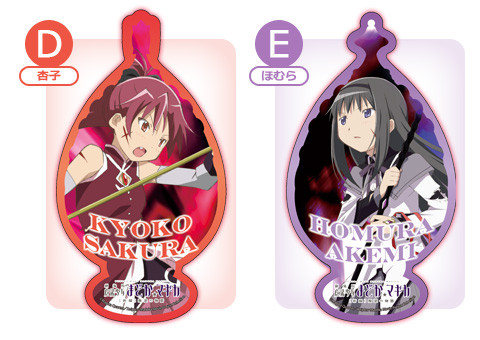 [Via YaraOn]
---
discuss this in the forum (2 posts)
|
bookmark/share with:
RightStuf - Anime, Manga and More