Interest

Drool-Worthy Food Anime That Will Make You Hungry

posted on by Bamboo Dong
With Thanksgiving right around the corner, we've got food on our mind. What better way to get ready than to stare at pictures of food?
---
Thanksgiving is only two weeks away, and with that usually comes a gigantic feast. Whether you stay in and cook, or go to a loved one's house, or even out to eat, it is one of the handful of American holidays that pretty much gives you a free pass to stuff yourself until you want to puke.
Of course, you don't have to wait until then to start dreaming about hearty platters of food. To get your saliva going, here's some anime and manga titles with some truly Thanksgiving-worthy feasts and dishes, whether they actually be about food and food preparation, or just can't stop talking about it.
Cocktails
Every full course meal should start off with a light cocktail. It opens up the palate, and it preps you for a long night of socializing. Plus, booze.
Written by Araki Joh and illustrated by Kenji Nagatomo (and with an anime TV series adaptation by Palm Studio, and an eight-episode TV drama), Bartender is a delicious ode to mixology. Main character Ryu Sasakura is a genius bartender who mixes the best cocktails in the world. In the series, he meets a wide range of patrons, and through his brilliant libations, helps them through their problems.
Oh, and there are even recipes included in both the anime and manga.
Look how lovingly this drink is crafted!


Bread
Watching anime about bread is hard, because you can practically smell the fresh bread, and hear the crackle of the crust...
Written and drawn by Takashi Hashiguchi, this shonen tournament-style manga (and 69-episode anime adaptation by Sunrise) is all about bread, bread, bread. The title itself is a play on words that means, "Freshly Baked!! Ja-pan!" with pan meaning "bread" in Japanese. It follows aspiring baker Kazuma Azuma whose dream is to create "Ja-pan," the national bread for Japan.
Yes please.
Tumblr
Give me that.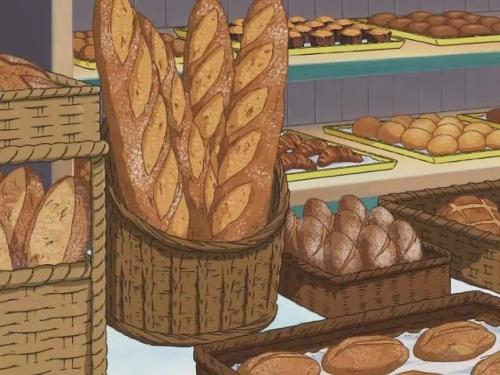 The manga is available through Viz Media.
Appetizers and Sushi
Who says you can't have sushi for Thanksgiving? Tell them they're wrong, because sushi is beautiful and delicious.
Despite the name, Mixed Vegetables is not about vegetables. It's about sushi (and cakes), and it is glorious. Written and illustrated by Ayumi Komura, this romantic comedy follows the lives of the daughter of a pastry chef who wants to be a sushi chef, and the son of a sushi chef who wants to become a pastry chef.
Yes.

Mixed Vegetables is available from Viz Media.
With art by Akira Hanasaki and a story by Tetsu Kariya, Oishinbo is the manga for foodies. It follows the culinary journeys of food writer Shiro and his wife Yuko as they eat their way through life.
Take me with you.

Oishinbo is available through Viz Media, and is available as themed compilations, with themes like "Ramen & Gyoza," "Izakaya: Pub Food," "Fish, Sushi & Sashimi" and others.
Wines & Beers
We couldn't start the main courses without something to pair the dishes with. So about some wine, beer, and sake?
In this manga by Tadashi Agi, main character Shizuku is the son of famed wine critic Yutaka Kanzaki. However, Shizuku absolutely hates wine and instead, works for a beer company. When his father dies, he learns that the only way to receive his inheritance is to compete against a wine critic who claims to be Yutaka's adopted son, and identify 13 legendary wines know as the Twelve Apostles and the "Drops of God."
Yes, aerate that wine!

It's so good!

The ladies love it too!

Drops of God is available from Vertical.
Moyashimon is everything you've ever wanted to know about fermentation, and probably more. A lot more. College student Tadayasu Sawaki has the strange ability to actually see and communicate with microbes. This makes him the perfect candidate to learn all about the nitty-gritty details of sake production, soy sauce, and more.
Hooray, sake!
Tumblr
The manga is available from Del Rey, while the anime is available streaming on Crunchyroll.
Entrées
Finally.
Both a manga series by Hiromu Arakawa (Fullmetal Alchemist) and an 11-episode (for now) anime series by A-1 Pictures, this title isn't so much about food, as it is about where food comes from. Protagonist Yugo Hachiken doesn't quite know what he wants to do with his life, so he enrolls at Oezo Agricultural High School. There, he learns about animal husbandry, farming, dairy production, and all the things necessary to put food on the table. And it's filled with insane pictures of food.
Like this:
Oh God.
Give me everything.
Tumblr
The anime is available streaming on Crunchyroll, and is licensed for distribution by Aniplex of America.
Ristorante Paradiso is actually about a young woman who goes to Italy to confront her absentee mother, who abandoned her at an early age, but there is so much food. While she's there, she discovers the magic of Ristorante Paradiso, a restaurant owned by her mother's new husband, that's staffed by handsome, bespectacled men. Soon, young Nicoletta decides to become a chef, and starts training at the restaurant.
In the meantime, we get to see stuff like this:

The manga is available from Viz Media, while the anime is available from Right Stuf, and streaming online.
Toriko is a food lover's paradise. It's virtually impossible to watch the anime or read the manga (by mangaka Mitsutoshi Shimabukuro) without getting hungry. It follows the adventures of gourmet hunter Toriko and chef Komatsu, who will brave the harshest conditions and fight the most monstrous of foes to get a taste of the world's best food. The story takes place in a world where crazy, gourmet dishes literally grow on trees, and spout through rockbeds, and food is so insanely delicious people will risk their lives for it.
It's full of fruits and vegetables:

Meats:

And of course dessert:

Toriko Wiki
The manga is available from Viz Media, while the anime is being distributed by Funimation.
It's pretty hard not to talk about One Piece when the subject of food comes up. The series itself isn't about food, per se—it's about a ragtag team of pirates who are searching for the ultimate treasure—but when one of the main characters is a gourmet chef, and you're in a world full of mystical foods and drinks, you're going to get some mouth-watering scenes.
Guh...
Tumblr
Need...

Tumblr
The One Piece anime is available from Funimation, while the manga is available through Viz Media.
Dessert
Some may say this is the best part of every meal. Many would agree. So would these anime and manga titles:
Both a long-running anime series and a manga, drawn and written by Natsumi Matsumoto, Yumeiro Pâtissière is the story of a girl named Ichigo who dreams of becoming a pâtissiere. She enrolls in an elite pastry school, and with the help of her friends and the Sweet Spirits, she starts embarking on her lifelong dream.
Tumblr
The anime is streaming on Crunchyroll.
Written by Fumi Yoshinaga (whose other foodie manga, Not Love But Delicious Foods Make Me So Happy!, is available through Yen Press, and whose What Did You Eat Yesterday? is available through Vertical), this manga follows four men who have devoted their lives to a cafe called "Antique." It has also been adapted into an anime series by Nippon Animation and Shirogumi Inc.
Naturally, there is cake.
Tumblr
The manga is available from Digital Manga Publishing, while the anime is available through Right Stuf, and streaming online.
Do you have any favorite anime or manga series that make your mouth water? Let us know in the forums!
---