Interest

Hitachi Develops Transforming Robot for Fukushima Plant Work

posted on by Eric Stimson
Also: an observation robot with tank treads
---
Three years after the catastrophic tsunami and nuclear meltdown in northeast Japan, the Fukushima Daiichi Nuclear Power Plant remains in critical condition, with the leakage of radioactive water still an ongoing issue. Investigating the plant and identifying its issues demands remote observation since it's dangerous to go near the plant. Fortunately, this being Japan, transforming robots straight out of anime are being developed to perform this crucial yet hazardous work.


The mobile underwater robot
One variety of robot is designed to move around underwater, allowing it to operate inside the reactors, where water is being used to cool the melted cores. It is outfitted with tank treads to help it move up slopes and onto walls. Remote observation lets it maneuver around obstacles. Another robot is designed to morph into a narrower form so it can enter pipes; it can squeeze into spaces ten centimeters (4 inches) in diameter. It can also take pictures in its original form. Both robots are intended to observe the reactor and identify leaks in pipes that have enabled contaminated water to escape.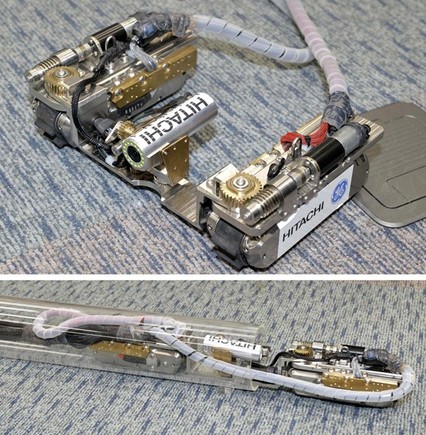 The transforming robot
Hitachi GE Nuclear Energy, the corporation that invented these gizmos, will present their plans to the Agency for Natural Resources and Energy and Tokyo Electric Power Company (the utility that operates Fukushima 1) soon.


How the mobile underwater robot navigates



The transforming robot's two forms
[Via MSN Sankei News; Images from SankeiBiz, MSN Sankei News SankeiPhoto and Hitachi]
---