Interest

Crimea's New Attorney General Wins Over Japanese Audience

posted on by Eric Stimson
Moe
artwork already posted
---
Recent events in Ukraine have captivated the world's attention. A corrupt ruler thrown out of the country by a disgruntled mob. Russia retaliating by seizing the Crimean Peninsula and installing a sympathetic regime. Russian leaders scoff at Western sanctions; Ukraine's new government appears helpless to do anything. The new Crimean government and its Russian backers appear to have few friends in the world now, given the dubious legitimacy of their actions.
In Japan, however, an admiring audience has emerged for Natalia Poklonskaya, Crimea's new attorney general. After serving the Ukrainian government for 12 years as a criminal prosecutor and busting local gangs, she swore allegiance to the breakaway Crimean government and gained her new post on March 11. In a press conference posted on YouTube, Poklonskaya outlined the legal basis of the new government's authority and denounced the "chaos" and "bloodshed" she personally witnessed in Ukraine's capital, Kyiv.
<
Since the original video had no subtitles, however, it is unlikely that Japanese viewers were attracted by her politics. Instead, her combination of apparent youth (she is 33), girlish looks, and military uniform appeal to current moe trends. The video has already surpassed a million views. Posts about her often carry the description "too beautiful." Comments on Twitter and news sites have included
"Who!! Who put a military uniform on a cute girl!? You have my praise."
"So cute! How is she 33?..."
"Ooo, if this girl was president I might bow before her."
"Cute! It's also good that she doesn't act childish! Women over 30 are where it's at."
"Her uniform and other things really hit the spot."
"I want her to investigate me harshly."
"I'm moving to Crimea so she can step on me."
"I want to hug her."
Poklonskaya has also gained an admiring audience in China, where posters on Weibo have made comments such as "Well, now we know the reason why Putin wants Crimea." Before long, artwork of Poklonskaya in moe or chibi form appeared on pixiv and other art-sharing sites. Many drawings originated from outside Japan, in places like Iceland and Taiwan.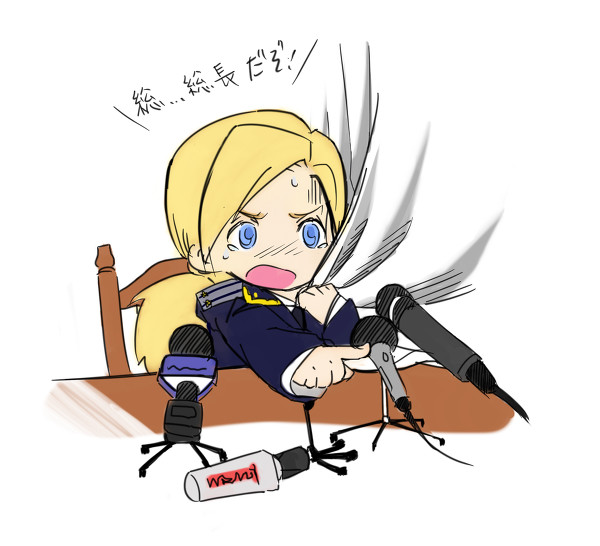 "I... I'm the [attorney] general!"





While online admirers applaud her moe credentials, the Ukrainian government is less pleased; it has reacted to her defection by stripping her of her title and opening a criminal case against her. The Japanese government has also refused to recognize either the Republic of Crimea or its annexation to Russia, and enacted sanctions against Russia on March 18. They are considered more mild than the West's.
Thanks to Matt for the tip!
[Via BloombergView, Hachima Kikou, JCast News, Togech, International Business Times, BBC News and Nihon Keizai Shimbun; Images from Twitter and Pixiv]
---