Interest

Haruhi Fans Lobby for Restoration of Sacred Site Icon

posted on by Chris Nishijima
Popular clock tower returned to train station plaza as a result of fan dedication
---
Fans of The Melancholy of Haruhi Suzumiya everywhere ought to rejoice. Several years after its initial removal, the Nishinomiya clock tower has been restored to its rightful place. The clock tower, which was featured in both the 2006 and 2009 anime adaptations of The Melancholy of Haruhi Suzumiya was considered a "sacred site" to fans of the series, due to its role as the meeting place for the SOS Brigade during their many exploits.

The clock tower had been removed from the area in 2009, as part of the local municipal government's development plans. The square, in which the clock tower finds is residence, was to be renovated to host a the construction of an underground bicycle parking area. However, after various e-mails and letters of protest from fans of the series, the government was finally persuaded to return the clock tower to its former home. One dedicated fan even tracked the clock tower down to a nearby scrap recycling facility where it was being held during the attempted construction.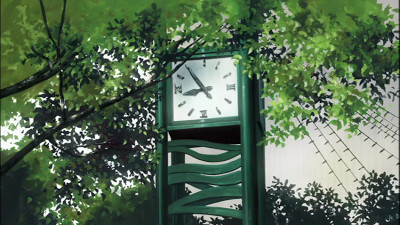 With the return of this clock tower to the Nishinomiya-Kitaguchi train station, the municipal government can look forward to a possible increase in tourism, due to the location's title as a "sacred site." In addition to the clock tower, the entire city of Nishinomiya could be considered a pilgrimage location, as many spots throughout the city were used as a basis for the setting of The Melancholy of Haruhi Suzumiya. Nishinomiya is located in the Hyōgo Prefecture, which was recently ranked #11 on the list of most "sacred sites" by prefecture throughout Japan.
[Via The Japan News.]
---