Interest

Mamoru Oshii Shares Thoughts on Drones, Friendship, Social Networking

posted on by Eric Stimson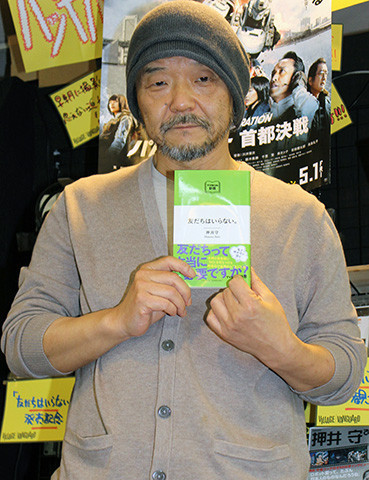 At a publicity event in Tokyo on May 11, celebrated anime director Mamoru Oshii (Ghost in the Shell, Patlabor The Mobile Police) shared his thoughts on drones, which have been in the Japanese news lately since Yasuo Yamamoto landed one on Prime Minister Shinzō Abe's office. "When that came out, I thought it'd be an effective method of terrorism. I used them for filming, and at the time I even said, 'Couldn't you hang a bomb from this?' Movies are fake, so it's fine, but now it's reality that's moving further."
The event was a book launch for Oshii's new work, Tomodachi wa Iranai ("I Don't Need Friends"). Accordingly, Oshii spent much of the event explaining his thoughts on friendship. "Ever since high school, I haven't thought about friends. Normally I don't think about them, and when I'm asked why, it's because I don't have any," he claims. "Starting from the idea that friends are necessary, the motive of wanting something from them always struck me as suspicious. Well, I'm guessing 90% of people in the world would disagree with me."
As a result, Oshii doesn't understand the modern fascination with social networking. "I don't want to have conversations with people I don't know, and I send almost no mail. There are maybe five people who know my address... I personally don't understand the desire to be connected, but I can imagine it. It's probably because they're anxious."
Oshii says these thoughts are reflected in his latest movie, The Next Generation -Patlabor-, the final installment of which was released this month. Regarding the humanoid police robots and helicopters with optical camouflage, he said, "I had a great deal of interest in the technology. From the military side, too. The [technological] gap with civilians is disappearing."
[Via Eiga.com]
---