Interest

New Cardcaptor Sakura Clow Card Set is Interactive

posted on by Lynzee Loveridge
Takara Tomy
will introduce line that includes Sealing Wand, Clow Card Book, Kero-chan that talks
---
Anime News Network's merchandise coverage sponsored by
Tokyo Otaku Mode
.

---
Cardcaptor Sakura's powerful Clow Cards are getting yet another reprint, but this time Takara Tomy is creating the set as part of an interactive line of products.
The set of 52 cards will include RFID chips, so they interact with a brand-new Clow Card Book, a Sealing Wand (that lights up), Sealed Key, and even a talking Kero-chan plush. Different cards come with different items. Cards designated with a pink star (see linked image) come with the Sealing Wand, the red star cards come with the book, and the yellow star items come with Kero-chan.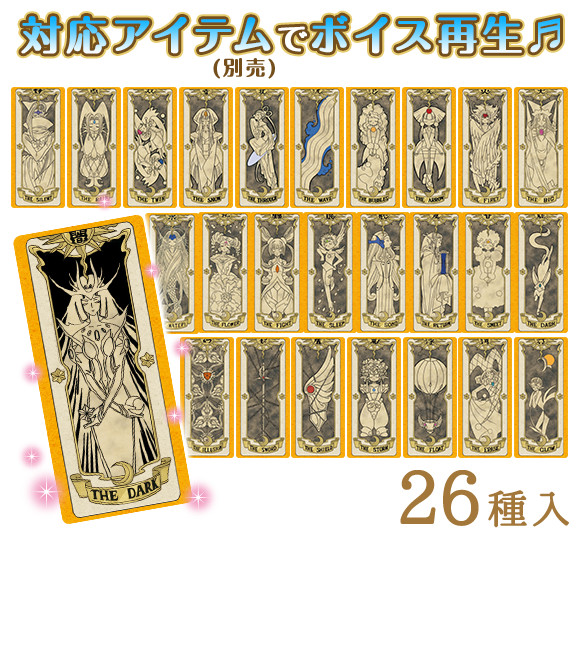 The 52 cards will also be sold in two collections, half in The Light Card group and half in The Dark Card group. Each of the sets retail for 6,000 yen (US$53). All the items will go on sale in September.

The Sealing Wand will cost 8,500 yen (US$75.50) and comes with five cards, The Wood, The Shadow, The Windy, The Rain, and The Firey. It has 52 different voice messages that the wand "speaks" when it touches a Clow Card.

The Clow Card Book retails for 6,000 yen (US$53) and can store all 52 cards. It comes with The Time, The Sword, and The Flower. It has 80 different voice messages for daily advice, compatibility checks, and more, plus 52 voice messages for Clow Cards.

The talking Kero-chan plush comes with The Jump and costs 5,000 yen (US$44.50). It has over 20 random voice messages, plus 52 voice messages for Clow Cards.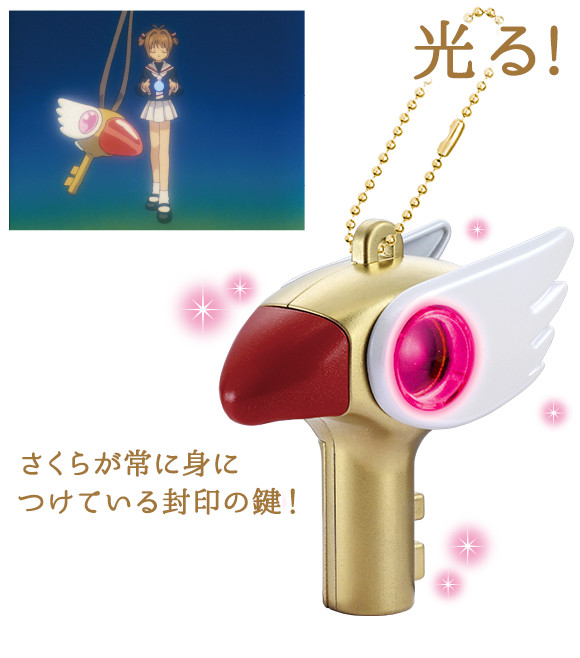 The light-up Key costs 2,200 yen (US$19.50).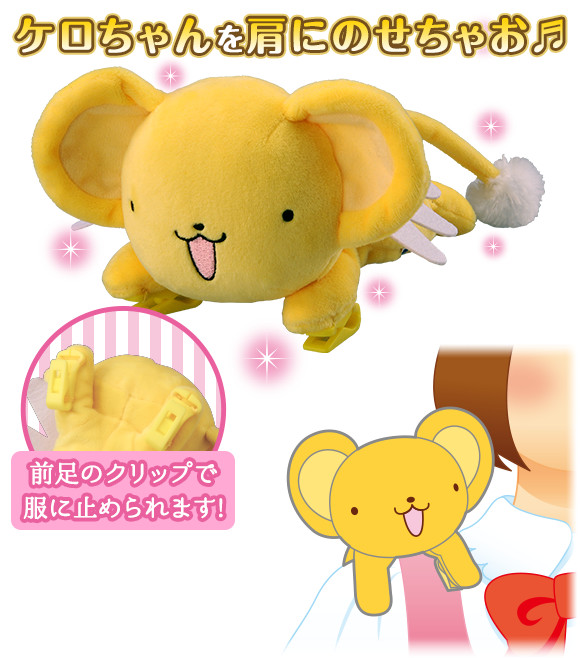 A shoulder-riding Kero-chan plush will also be sold 2,000 yen (US$19). Takara Tomy sold a limited supply of 1,000 of these Kero-chan plushes early at AnimeJapan over the weekend.
The goods are part of the manga and anime series' 20th anniversary. The creative team CLAMP are publishing a new short story manga and NHK's BS Premium will re-run the Clow Card arc of the Cardcaptor Sakura anime starting on April 6. A book compiling previously published illustrations (cover pictured at right) shipped on March 24. Six Animate Cafés in Japan will host a Cardcaptor Sakura theme starting on April 1.
The official anniversary website also announced an upcoming collaboration with the lolita brand Baby, The Stars Shine Bright. The popular fashion brand will make Sakura's outfit featured on the cover of the artbook. The Japan Post will also release a series of Cardcaptor Sakura stamps starting on April 1.
---