Interest

Wakako-zake's Wakako Endorses Iwatsuka's Bar Snacks

posted on by Eric Stimson
Wakako, the protagonist of Wakako-zake, loves to imbibe beer and munch on tsumami, the bar snacks that typically accompany it. It's no surprise, then, that she goes "Pushushu~" to Iwatsuka Confectionary's line of bar snacks "for adults."
The above video (starring Miyuki Sawashiro of the Wakako-zake anime) introduces Iwatsuka's Ebi Kari, a deep-fried rice cracker stick flavored with shrimp and curry (garam masala, to be more specific), and Ebi Kuro Koshō, a similar cracker that uses black pepper and ultra-pink sakura shrimp instead.


Wakako also approves of Iwatsuka's Shio Wasabi (salt and wasabi) and Edamame Arare (soybean-flavored round rice crackers).


You can also get a package with a mix of the first three types.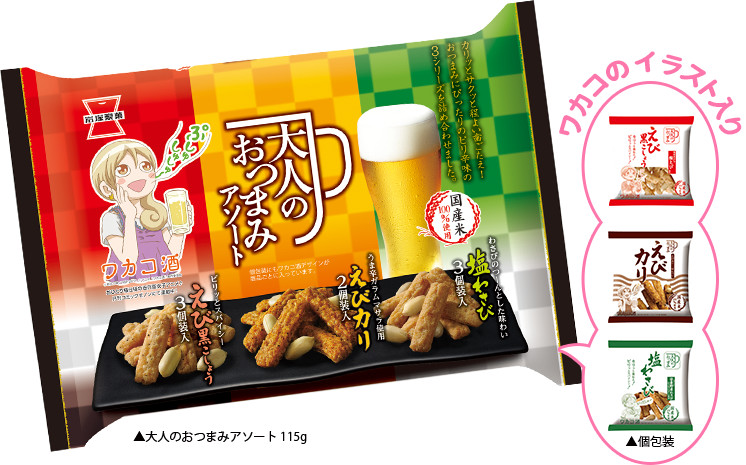 To get customers in the right mood, the larger bags (70 - 100 grams, or 2.5 - 3.5 oz) contain comic strips of Wakako enjoying the snacks. The first one has her indulging in more beer after a party with friends, the second after a tough day of work, and the third breaking out the beer after hiking up a mountain.



Iwatsuka's Otona no O-tsumami (Bar Snacks for Adults) cost 160 to 180 yen ($1.45 to $1.64) and come in two sizes.
Wakako-zake represents an emerging female Japanese bar culture. Although the "sake" of the title doesn't necessarily mean rice wine (the term actually means "alcohol"), rice wine is enjoying a resurgence as well.
---