Interest

January & February's Light Novel Titles are Really Weird

posted on by Eric Stimson
They include longest light novel title ever
---
As light novel fans (or most anime fans, given how often light novels are adapted into anime) can tell you, the current trend is towards longer and longer titles, the better for time-pressed browsers to glean the plot at a glance. The results can be pretty strange, like What If the Girl Manager of a High School Baseball Team Read Drucker's Management? (Moshidora) or Is It Wrong to Try to Pick Up Girls in a Dungeon? The light novel titles for the books set for publication in the next two months continue this tradition — as well as shed some light on the interests of the light novel demographic.

I Leveled Up Through Parasitism But I Might've Gone Too Far
This Hero's Too Cautious Even Though He's OP
How My Room Turned Into a Dungeon Rest Area
I'm Bad at Communication, But I Maxed Out My Negotiation Skills So I Got Reincarnated
A Black Gal Was Transported to a Fantasy World and Mistaken for a Dark Elf
There's No Way There's a Bitch in My Literary Arts Club
I Couldn't Get Real Satisfaction [a GIRLFRIEND] So I Became a Comrade to a Revolutionary (above right)
They Say You Can't Get Reincarnated in a Fantasy World If You Get Hit by a Truck, So I Decided to Work with a Pretty Girl
How My House Became a Magical Power Spot
I Defeated Slimes for 300 Years, and Before I Knew It My Levels were Maxed Out (I've Been Killing Slimes for 300 Years)
I Went to School to be a Swordswoman, But My Magical Aptitude is 9999!? (below right)
What If the Guy in the Village Before the Final Dungeon Lived in the Starting Town?
I'll Sacrifice My Youth and Open Her Bangs
My GIRLFRIEND's No Otaku, But She Sure is Interested in My Erotic Games......
I've Been Reborn as an Aristocratic Pig, So This Time I Want to Tell You I Like You
She Trained in Martial Arts for Over a Century. Martial Arts Training Corrected by an Elf
The Heroic Elf Can Raise Two Disciples!
Will You Like Me If I'm Cute But Slutty?
Sew It Up! Take It Off? Change!! My GIRLFRIEND Failed Her High School Debut and Became a Hikikomori, So I Decided to Coordinate Her Youth (Fashion)
If that last title seems especially long, that's because it is: this novel, due for publication by Dengeki Bunko on March 10, has the longest light novel title ever at 69 characters long, including punctuation. As the title suggests, its protagonist is a giant fashionista who has to help his childhood friend out when she comes to high school overdressed.
Meanwhile, Do You Like Your Mom?, slated for publication on January 20, has won the 29th Fantasia Grand Prize, an annual award given to novels published by Fujimi Fantasia Bunko. The novel follows a high school boy who, like many others in his genre, is transported into a video game... but so is his mother, who not only is fiercely devoted to him, but is very helpful in combat.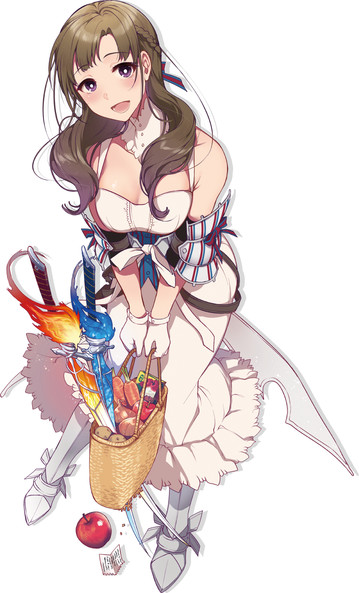 For more long light novel titles, see the Top Five Light Novels Ranked by Title Length (as of 2014).
[Via Yaraon! and Otaku.com; Images from Amazon.co.jp, Twitter and Fantasia Bunko]
---