×
remind me tomorrow
remind me next week
never remind me
Subscribe to the ANN Newsletter • Wake up every Sunday to a curated list of ANN's most interesting posts of the week.
read more
Interest

Adventures in the Yuri!!! on Ice Café

posted on by Kim Morrissy
Katsudon is a Japanese rice dish made with deep-fried pork cutlets, egg, and vegetables. If you prepare it with just the right blend and consistency, it's absolutely mouth-watering stuff. It's common enough that you'll find it served on just about every street corner in Tokyo, but it's popular even outside Japan, and I'm sure that Yuri!!! on Ice boosted the profile of the dish even further.

Curious to see what all the fuss is about, I went to the Yuri!!! on Ice café in Tokyo to try out Yuri's famous katsudon for myself. Technically, this isn't the first Yuri!!! on Ice-themed café to open in Tokyo—there was another collaboration café operating in Ikebukuro last December—but evidently business has gone swimmingly, because another café event has opened in the Shibuya ward this May, and there are plans to bring it over to Osaka at some point in the near future.
This particular collaboration event was located in Omotesando Box Cafe and Space, a popular venue for anime and manga-themed cafés. It's a quiet little place located in a side street in a residential area, but it was bustling with activity even on a weekday. Even though I had a reservation, I had to stand in a queue that trailed all the way outside. The customers waited outside in an orderly fashion, fanning themselves in the heat as they chatted amongst themselves in hushed yet eager tones.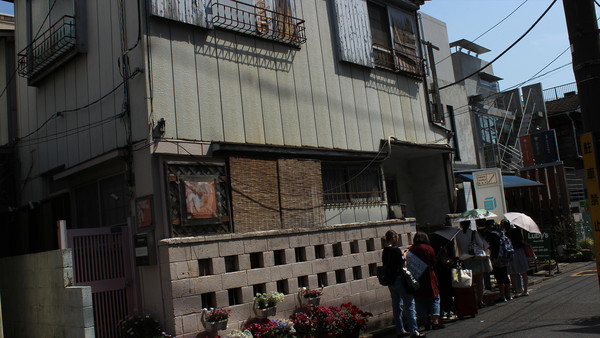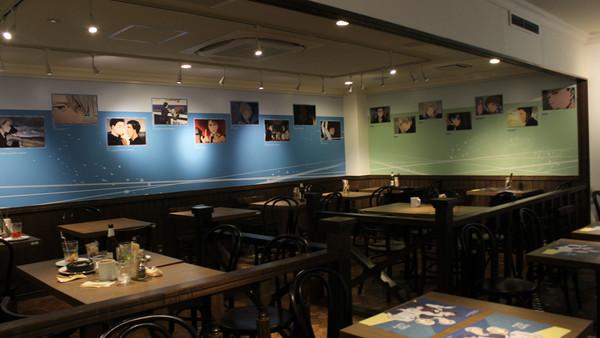 The establishment might look sizable from the outside, but in fact only the first floor and a tiny basement floor were in use. After I made my order, I was given a ticket and directed downstairs into a dimly lit room with a tiny square table in the far-right corner. Nobody spoke at all, except for the waitresses who guided the customers to their seats and explained the rules of the establishment in polite yet robotic language.


Each table had two chairs, but there clearly wasn't enough room for two people. Everybody sat alone, even when they obviously came together. Despite the number of people being served, the interior felt less like a café and more like a series of compartmentalized booths. My only company was one of the Yuri!!! on Ice-themed clear posters that had been left on each table, as a free gift for customers.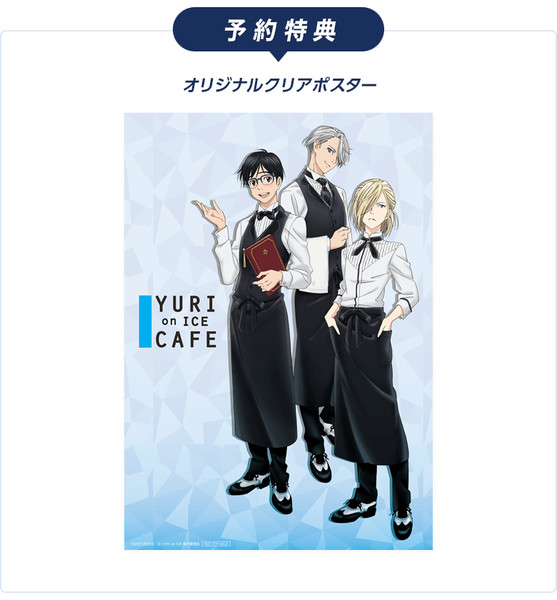 There was plenty to look at, at least, while I waited for my katsudon to arrive. The walls were lined with screenshots from the anime, and a screen on the wall played footage from the first few episodes of the TV series. Music from the soundtrack played through the speakers—almost all of them were from the skating routines in-show.



Interestingly enough, none of the other customers appeared to be terribly preoccupied by the decorations. Most of them were busy on their phones, either taking pictures of their food or (apparently) messaging friends. About halfway through the session, I understood why. For the hardcore fans, the café itself was a sideshow for their real reason for showing up—access to the merchandise booth. This booth contained original merchandise only sold at the café venue, most of them featuring the anime's handsome leads dressed in waiter outfits. One by one, each customer was asked if they would like to visit the merchandise booth, and almost without exception they said yes.
Here's what the booth looks like: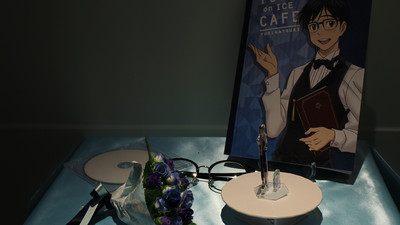 The prices, for those interested, were 420 yen for one of the notebooks, and 1200 yen for one of those tiny acrylic stands. Because you can't pick which character you get when you buy a stand, it could take more than three tries to complete the set. I didn't try—I like Yuri!!! on Ice as much as the next fan, but maybe not enough to pour my savings into exclusive merch.
And what of the katsudon I ordered, you might ask? It was a pleasing and satisfying meal, although it didn't taste any different from the katsudon I had at a corner store the other day despite costing over thrice the price. I also got a Victor-themed raspberry soda, named "Quad Soda" after his signature skating feats, and that tasted just like regular soda with fairy floss on top.



Inflated prices for character goods and generic food may be par the course for places like these, but the whole point is really the fan experience. After one woman came back from the merch booth, she broke the unwritten rule of silence to tell her friend excitedly about her purchases. Up until then, my whole experience in the café had been smooth but oddly mechanical. In that moment, I was reminded that being a fan is as much about sharing experiences as it is about buying things. The whole place had an almost secretive air about it, as if everyone was sharing an intensely private fan experience.
This Yuri!!! on Ice café is open until the 2nd of July. Do be aware, however, that it costs 700 yen to reserve a session and you need to order at least two dishes in order to be admitted inside. Definitely an event for the hardcore fan!
---