Interest

Town Prepares for Returning Crowds of 100,000+ Due to Girls & Panzer

posted on by Jennifer Sherman
The Ibaraki Shimbun newspaper reported on Sunday that the town of Ōarai, Ibaraki is again preparing for crowds of 100,000 or more visitors leading up to the annual Ōarai Anglerfish Festival, which will be held on Sunday. Considering that the town has a population of 17,000, that will be no small feat. The town, which calls itself "The Oceanfront Town," has Girls und Panzer to thank for the boom in tourism.

The festival began in 1998 to promote the town and its seafood specialty. For several years, the event drew in crowds of about 50,000 people. However, the event began collaborating with Girls und Panzer in 2012, the same year the television anime debuted. The initial collaboration drew a modest increase in attendance, and 65,000 people came to the town for the event. However, the event shattered its previous attendance record the next year by drawing in 100,000 visitors in 2013.

The event's staff reported that 130,000 people attended the event last year. Despite the town's precautions, the influx of people caused traffic congestion up to five kilometers (about three miles) away. Staff reported cases of people abandoning their cars and walking to the event. Accommodations in Ōarai for this year's event were reportedly booked by the end of August, so the festival will likely push the town's transportation capabilities to its limits again.
Therefore, the festival's staff is offering more parking and supplemental trains to combat the anticipated crowds. Buses with Girls und Panzer wrapping will operate between Ibaraki Airport and Ōarai on Saturday.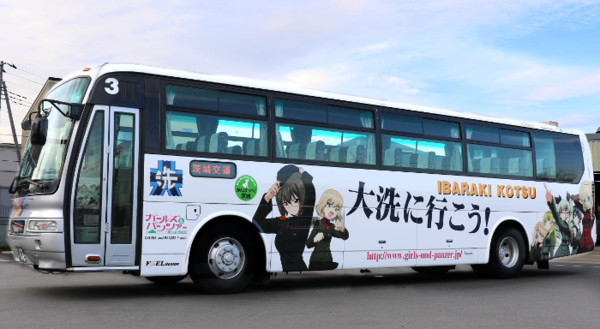 The five main cast members and theme song performer Sayaka Sasaki from the upcoming Girls und Panzer das Finale anime film series will hold a talk show on Sunday. Girls und Panzer itasha cars will again go on display at the festival. Other events will include the annual display of a real anglerfish on stage at a related event on Saturday and a Kirakira Precure a la Mode show on Sunday. In addition, official Girls und Panzer ambassador and pro wrestler Masahiro Chōno will appear for photograph sessions.
Ōarai has become an anime pilgrimage site because of its status as the Girls und Panzer setting. The anime has participated in many collaborations with Ōarai, and the series received the Grand Prize for improving Ibaraki Prefecture's image in 2013. The anime participates in the Ōarai Anglerfish Festival every year. Chōno has previously appeared at other events in the town, and he regularly participates in promotional campaigns for the anime itself.
The first of six episodes in the Girls und Panzer das Finale anime project will open in 59 Japanese theaters on December 9.
[Via Hachima Kikō]
---