Interest

Girls und Panzer Storms Oarai

posted on by Eric Stimson
Small Japanese coastal town seized with
Girls und Panzer
fever ahead of seasonal festival
---
Girls und Panzer, the 2012 anime that combines cute high school girls with lumbering armed vehicles, takes place in Oarai, an actual Japanese town situated in Ibaraki Prefecture 80 miles north of Tokyo. To help rejuvenate the tsunami-ravaged area, it has incorporated Girls und Panzer-themed events into its annual Angler Fish Festival in November. It worked well last year, drawing 65,000 visitors to an event normally attended by 25,000.
This year's Angler Fish Festival is being held this weekend, and Oarai has been bombarded with a barrage of girls und their Panzer. Kashima Rinkai Railway, the company operating the local train line, has painted two of their cars with the show's characters.


Inside the cars, passengers can see more of the show's characters.

"We're waiting [for you] in Oarai!"

"It's Oarai!"

"Oarai... I'd like to go there with the commander..."
While looking out the windows of these trains, passengers can see "Yadamo!" (roughly, "Eww!" or "I don't wanna"), a whine associated with one of the characters, written across two fields. Another field replicates the show's logo, complete with the slogan "Panzer vor!" ("Tanks forward!")


In town, signs of feminine militarization are also evident. This guy's car has been outfitted with a gun turret and painted for the occasion.

City councilor Kazuaki Imamura has also finished his tank, a refashioned Hijet truck. It will be somewhere in a pedestrian zone.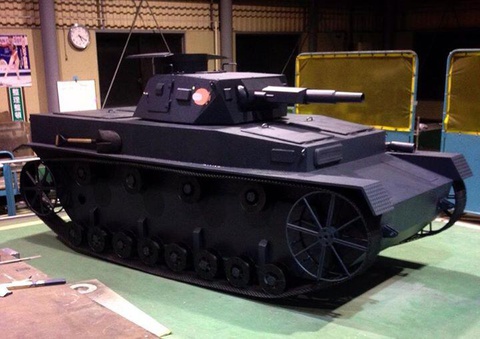 Various stores have placed cardboard cut-outs of Girls und Panzer characters outside or inside to woo passing otaku.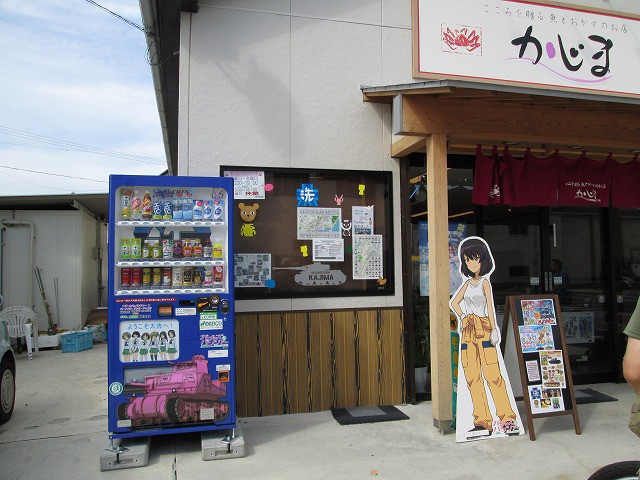 Street vendors are selling bottles of plum syrup for 1,800 yen (or about $18); they come with a free Saori badge.

Or one could opt for this box of sweet plums.

The actual festival mostly revolves around angler fish, the town's specialty product. Events include a public angler fish gutting, distribution of angler fish soup, and performances of the local folk dance, isobushi.
[Via Yaraon!, Oarai Angler Fish Festival official site; Images from Animan!, Uchiwa Renraku Site, and Ankou News]
---