Interest

Girls und Panzer Awarded Grand Prize for Improving Ibaraki's Image

posted on by Bamboo Dong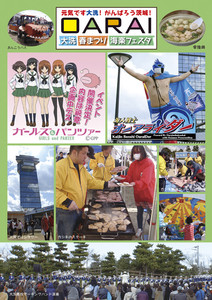 Every year, Ibaraki Prefecture announces a list of organizations or entities that improved Ibaraki Prefecture's image. This year, the Grand Prize went to the Oarai city "Garupan" (Girls und Panzer) project.
Judges gave accolades for the property's efforts to plan tours, events, and collaboration products, as well as draw in tourists and media attention.
Oarai holds two Girls und Panzer festivals every year—one to coincide with the town's spring festival, and one timed for the town's annual autumn Angler Fish Festival. Not only does the city serve as the setting for the series, its landmarks and streets also serve as the actual reference for many of the backdrops.
This year's Angler Fish Festival Girls und Panzer event featured itasha cars, cosplayers, and a full-size replica of Miho Nishizumi's Panzer IV.
The awards ceremony will be held on February 5, 2014.
---