Interest

World's Largest Dragon Quest Slime Figure to Loom Over Yokohama

posted on by Lynzee Loveridge
The original slime is back to reclaim its viscous throne. The iconic Dragon Quest Slime monster will grow to eight meters high and eight meters wide in Queen's Square Yokohama. The shopping mall will be home to the world's largest slime from December 20-24.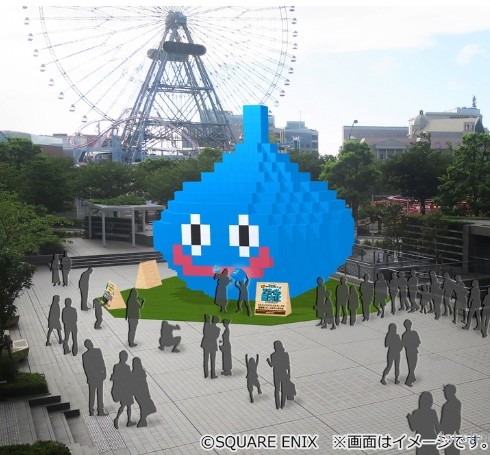 This slime will be significantly less messy than its video game version. Organizers are building the monster out of giant sized blocks to give it a super-sized pixel effect. The stunt is part of a promotional campaign for the Dragon Quest Builders 2: Hakaigami Shidō to Karappo no Shima (Dragon Quest Builders 2: God of Destruction Malroth and the Empty Island) game for the Nintendo Switch and PlayStation 4.
The game will ship in Japan on December 20 for both the PS4 and Switch.
KOEI Tecmo is assisting the development of the game by working on its action.
In the new game, after Hargon's death, a religious organization rose in his place and inherited his will, and the peace brought by Hargon's death started to crumble. The goal of the organization was the destruction of the world. The organization begins to destroy towns and castles in places all over the world, and not much remains of the lives of the people. To this organization, the Builders are a hinderance and must be eradicated. The organization captures the protagonists and throws them in jail.
In the game's story, the protagonists wash ashore on "Empty Island," surrounded by rotting casks and driftwood. As the name suggests, there are no people, no towns, and no houses on the island. There is, however, an unnatural shrine-like object atop a rocky mountain.
Manga creator Akira Toriyama designed the game's female and male protagonists. The protagonists are the descendants of the legendary builders who once saved the world.
Source: Mainichi Shimbun's Mantan Web, Dragon Quest Builders 2 Big Slime website
---