×
remind me tomorrow
remind me next week
never remind me
Subscribe to the ANN Newsletter • Wake up every Sunday to a curated list of ANN's most interesting posts of the week.
read more
Interview: Ryo from supercell
by Carlo Santos,

In November 2010, the English-speaking internet went abuzz over a video featuring a "holographic Japanese pop star." Although it was not a true 3-D hologram, but just an illusion created by a clear projection screen, this meeting of music, technology, and "

Cool Japan

" aesthetics clearly struck a unique cultural chord among viewers.

The pop star is Hatsune Miku, a "virtual idol" developed by

Crypton Future Media

. Essentially, Miku is a software package, powered by

Yamaha

's Vocaloid voice-sampling technology. Just as a synthesizer keyboard allows composers to add instrumental sounds to their music without needing to hire actual instrumentalists, Vocaloid can now provide vocals without requiring an actual singer. But more importantly, Miku is a musical instrument with a cute anime face, and for that reason, she and her fellow Vocaloid singers have blossomed into an entire subculture unto themselves.

Every singer needs a song, however, and that's where the creative collective
supercell
comes in. With composer/lyricist Ryo at the helm and a team of visual artists providing the complete multimedia package, supercell has given Miku a repertoire of fan-favorite hits like "THE WORLD IS MINE," "Melt," and "Black Rock Shooter." And now, for the first time ever, supercell's "THE WORLD IS MINE" is being released as a downloadable single in the U.S.
In anticipation of this international Vocaloid event,
Anime News Network
interviewed Ryo from supercell to learn more about him and his work.
---
Describe your background as a musician—what instruments do you play, how did you learn songwriting, and which artists have influenced your style?
I used to take lessons for the piano, but when I started to play in a band I also started playing the drums. At the same time I started making original songs with a synthesizer. I like music from a variety of genres and that led to my creation of original songs. Bands that influenced me included Massive Attack,
Boom Boom Satellites
, Portishead, Tricky, and UNKLE. I like the artists that blend rock and hip-hop styles with today's latest technology.
How did you meet the illustrators that make up the group supercell?
It all started by posting videos by myself, through the
Nico Nico Douga
video sharing site. I gradually gathered illustrators and designers together. In Japan there is a large annual event called Comic Market [
Comiket
] and I started to create songs to participate in this event. Matching up music and the illustrations and composing songs gave birth to supercell.

Online communities like Nico Nico Douga were a big part of your early success. How do you think your music career might be different if the internet didn't exist?
I probably would have ended up just making music for my self-satisfaction but the web definitely brought my music to a wider audience.
Describe your process in creating a song—do you start with a general idea, music, lyrics, artwork, or a combination?
There aren't any specific formats, but I tend to make music by humming and recording in my IC recorder or playing the piano.
What are the unique challenges in writing/producing songs for Vocaloid as opposed to a live vocalist?
Well, Vocaloid technology doesn't require one to worry about the range and the key for the person singing. It also makes it possible to vocalize songs in ranges that are often not possible for a person to sing. It may be a difficult thing to understand for those who just listen, but I sense unlimited possibilities with Vocaloid technology.
Critics of Vocaloid say that it "sounds fake" or is not even real music. How would you respond to those kinds of comments?
Well, I like Natchan (processed orange juice) a lot more than 100 percent natural orange juice!
At what point do you think Vocaloid music will progress from being a novelty and become accepted by mainstream audiences (or do you believe that has happened already)?
I hope its popularity will continue to spread and that it will gain wider acceptance.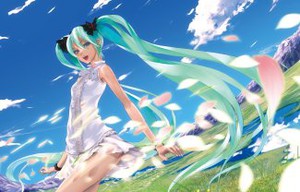 When you went major-label with Sony, what new challenges did you face in dealing with the music industry, as opposed to the doujin [self-published] community?
The process took some time. From my point of view, there were a lot of administrative aspects that I never really knew about before and weren't really related to music. But they were important steps and I had to be involved with all these aspects. However, now that I'm able to have interviews from overseas, there are also many good points. Sony gave me the platform to take supercell's music to a worldwide audience.
What is it that you find most surprising about the international (i.e. non-Japanese) fanbase for Vocaloid and your music?
I'd say that many people from overseas may have trouble understanding the lyrics made from the Japanese Vocaloid version. But it's also very gratifying to see people overcoming the language barrier and enjoying the music I make. I've been very surprised and gratified. Vocaloid is something that can be enjoyed by many people, so I think Vocaloid is something that has the potential to become an international trend.
For those who want to succeed as songwriters or producers in today's music business, what advice would you give them?
Be honest to yourself.
Now that supercell and Hatsune Miku are making their international debut, what future goals would you like to accomplish as a musician?
Before I die, I want to win a Grammy award!
Hatsune Miku © Crypton Future Media Inc.
---
discuss this in the forum (15 posts)
|