News

Japan's Defense Ministry to Explore 'Realizing' Gundam

posted on

2007-10-29

10:59 EDT by Egan Loo
Symposium to run exhibit on 'Advanced Personal Equipment System'
---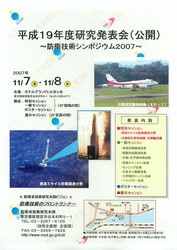 The Technical Research and Development Institute in Japan's Ministry of Defense has posted on its website the program for its Heisei 19 Research Paper Presentation: Defense Technology Symposium 2007 on October 29, and the November 7-8 symposium's schedule includes a ground equipment exhibit titled: "Towards the Realization of Gundam (Advanced Personal Equipment System)." The exhibit runs alongside another one for a "Miniature Robot (for Reconnaissance and Data Gathering)." No other information on either exhibit is provided on the symposium's webpage.
The Japanese government and its nominally non-military Self-Defense Force have often used tangentially related elements of popular culture to attract young people for recruitment and public relations. The Ministry of Defense created three manga booklets for its mascot Prince Pickles to explain its mission to its citizens, and the Ministry of Foreign Affairs has Detective Conan explaining its mission. The Maritime Self-Defense Force has recruited new sailors with idol group and sentai imagery.
The Japanese animation industry, particularly the animation company Sunrise, considers the 1979-1980 Mobile Suit Gundam television series to be the progenitor of the so-called "real robot" genre after the more fanciful "super robot" genre of the Sixties and Seventies. Sunrise has openly noted that Gundam creator Yoshiyuki Tomino drew some inspiration from the humanoid powered suits of Robert A. Heinlein's Starship Troopers, although the mobile suit robots of Gundam are ten times the size of humans (18 meters, or the same size as the super robot pioneer Mazinger Z).
A spokesperson for Japan's Ministry of Agriculture declared earlier this month, after six of its employees were reprimanded for editing the Japanese Wikipedia encyclopedia article on Gundam during work hours, that "the Ministry of Agriculture is not in charge of Gundam."
Source: Gunota Headlines
---
This article has a follow-up:
Japan's 'Gundam' Personal Equipment System Revealed
(2007-11-05 17:11)