×
remind me tomorrow
remind me next week
never remind me
Subscribe to the ANN Newsletter • Wake up every Sunday to a curated list of ANN's most interesting posts of the week.
read more
News

Bandai's Bubble-Wrap-Popping Keychain: Now with Moe

posted on by Egan Loo
---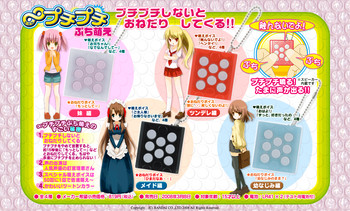 Not-So-Daily Link of the Day: Last September, the Japanese toy company Bandai began selling electronic keychains that simulate the sound and feel of popping bubbles in plastic wrap. The ∞ Puti Puti (Mugen Puchi Puchi or Infinite Pop-Pop) keychains became a hit among obsessive-compulsives who wanted an everlasting, portable supply of virtual bubbles to pop. Bandai announced on February 7 that it will launch a spinoff line: ∞ Puti Puti Petit Moe, four new bubble-popping keychains that will also feature different moe voices by Rie Kugimiya (Fullmetal Alchemist's Al, Gintama's Kagura, Hayate the Combat Butler's Nagi, Shakugan no Shana's title character, Zero no Tsukaima's Louise).
After you pop 50 virtual bubbles on one of these keychains, it will "talk back" in four different voices that cater to specific moe obsessions: imōto (little sister), maid, tsundere (initially domineering, abrasive personality), and osananajimi (childhood friend). For example, the imōto version might say "Oniichan!" ("Big Brother!"), the maid version might say "Okaerinasaimase, Go-shujin-sama" ("Welcome home, Master"), the tsundere version might say "Sawan nai de yo!" ("Don't touch that!"), and the osananajimi version might say "Zutto, suki datta no…" ("I've always loved you…"). If you stop popping "bubbles" for 15 seconds, the keychain will pester you to keep going. Bandai has also posted a website with virtual blogs, profiles, and wallpaper for each moe type. The keychains will start shipping on March 8, and the 300,000-unit limited edition will stop selling in June.
---