News

Macross Frontier, Code Geass R2 Gets DVD, Blu-ray

posted on by Egan Loo
Japan's Frontier discs adds 1st episode's final cut, Chinese restaurant extras
---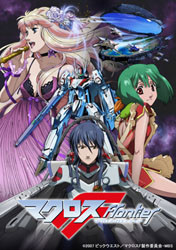 Bandai Visual of Japan has announced (PDF format) that it will release the ongoing Macross Frontier robot anime television series on both DVD and Blu-ray Disc starting on July 25. It also confirmed that the Code Geass: Lelouch of the Rebellion R2 sequel series will also be released on both formats starting on August 22.
The first volume of Macross Frontier on Blu-ray and DVD will contain the first episode in two versions: the preview "Deculture Edition" that aired last December, and a new complete "Yakku Deculture Edition" that will run 32 minutes. The initial pressings will also contain goods that celebrate the 50th anniversary of the fictional Nyan-Nyan Chinese restaurant chain. All pressings will come with 16 pages of liner notes and an audio commentary. The Blu-ray version will have a Linear PCM stereo soundtrack and 16:9-aspect-ratio, 1080p-resolution video. The eight remaining volumes will be released monthly starting in September. Macross Frontier marks the 25th anniversary of this science-fiction romance classic.

The initial pressings of the first volume of Code Geass R2 on Blu-ray and DVD will include eight postcards of the ending animation illustrations (drawn by CLAMP) as well as a CD of the tentatively titled "Code Geass Hangyaku Nikki: Q&A edition." All pressings will have a 16-page booklet about the world of R2, a video report of the first episode's preview screening, an illustrated drama, a Flash-animated Baba theater extra, a video collection of animation director's sketches, and an audio comentary of the first episode. The remaining eight volumes will follow afterwards with one disc per month. The Blu-ray version will have a linear PCM soundtrack and 16:9, 1080p video. Bandai Entertainment confirmed that it has licensed both the first Geass robot anime series and this second one for North America.
Image © 2007 Big West/Macross F Project
© Sunrise/Project Geass, MBS
Character Design © 2006-2008 CLAMP
---