News

Funimation Adds Shaw Brothers' Live-Action Films (Updated)

posted on by Egan Loo
Prolific Hong Kong studio of influential martial arts films;
FMA
iPhone app released
---

The North American video distributor Funimation has announced on Monday that it will release 15 live-action films from Shaw Brothers Studios on DVD. The family-run production house in Hong Kong is best known for producing one thousand films — mostly of martial arts — during the 1960s, 1970s, and 1980s.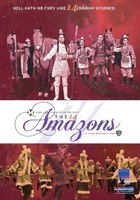 Among the Shaw Brothers titles that Funimation is releasing with digital restoration are 14 Amazons and Shaolin Hand Lock on March 16. These films were previously scheduled for release by the distributor BCI before BCI's corporate parent Navarre Corporation shut it down last year. (Navarre also owns Funimation.) Funimation's upcoming release of these Shaw Brothers films was first noted on the online Kung Fu Cinema Forums.
Funimation will also release Sword of Swords, The Duel, The Lady Hermit, Invincible Shaolin, Soul of the Sword, Life Gamble, Shaolin Rescuers, Shaolin Prince, Bastard Swordsman, Opium and The Kung Fu Master, The Supreme Swordsman, Return of Bastard Swordsman, and Hong Kong Godfather in 2010 and 2011.

The Shaw Brothers films left lasting influences on cinema in the rest of Asia, the United States, and Europe. Director Quentin Tarantino paid homage to the studio by beginning his Kill Bill Vol. 1 film with the studio's Shaw Scope logo.
Funimation has also announced that it is partnering with the Japanese developer Appliya to release iPhone applications based on Fullmetal Alchemist, Shin chan, Afro Samurai, and other anime titles. The first title, a 131-question quiz program called Fullmetal Alchemist: State Alchemy Exam, will be available on Apple iTunes' App Store for the iPhone and iPod Touch mobile devices.

Update: More background information and trailer added.
---