×
remind me tomorrow
remind me next week
never remind me
Subscribe to the ANN Newsletter • Wake up every Sunday to a curated list of ANN's most interesting posts of the week.
read more
News

Sentai Adds Asu no Yoichi, Eyeshield 21, Hell Girl 2 (Update 2)

posted on by Egan Loo
---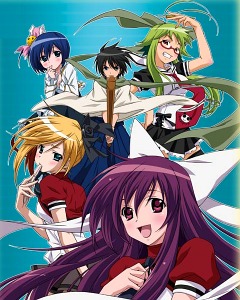 The North American anime distributor Section23 Films has announced on Friday that Sentai Filmworks licensed the Samurai Harem (Asu no Yoichi!) and Eyeshield 21 anime series, as well as the second season of Hell Girl and the Blu-ray edition of the Appleseed film. Section23 will ship the complete collection for Samurai Harem on May 11, while the first DVD set for Eyeshield 21 will ship on May 18, and the first DVD set for Hell Girl: Two Mirrors will ship on May 25. The Appleseed Blu-ray Edition will arrive with an all-new English dub on May 18, and the second collection for the previously announced You're Under Arrest: Full Throttle anime series will ship on May 4.
In the 2009 12-episode anime adaptation of Yū Minamoto's Asu no Yoichi! romantic comedy manga, titular character Yoichi decides to leave his family's mountainside home after his father tells him there is nothing more he can learn in martial arts there. The teenaged boy ends up in a martial arts dojo in the city with four girls. Tokyopop will release the fourth volume of the original Samurai Harem: Asu no Yoichi manga in April.

The Eyeshield 21 anime adapts Riichirou Inagaki and Yūsuke Murata's manga about the American style of football — as it is played in Japan. In the story, Sena Kobayakawa is a scrawny boy who is always being picked on at school, but that made him fast and nimble on his feet. His high school's American football team drafts him as their secret star running back and hides his identity with a dark green visor. With a jersey number of 21, Sena is now "Eyeshield 21."
The anime ran in Japan from April 2005 to March of 2008 for a total of 145 episodes. Viz Media is publishing the 30th volume of the manga in North America this month. Viz and Cartoon Network's Toonami programming block had originally planned to team up with the National Football League to stream this anime on the NFL Rush website in 2007, but the anime was eventually posted on Toonami Jetstream video service instead. (NFL Japan had co-sponsored Eyeshield 21's Japanese broadcast and even hosted a section on its website that was entirely dedicated to the anime.) The Crunchyroll website then began streaming the anime last year.

Like the first season of the anime, Hell Girl: Two Mirrors (Jigoku Shoujo Futakomori) revolves around a "Hell Girl" that anyone can summon, via a website, to condemn another human to Hell. However the price for the service is the summoner's own soul — condemned to Hell as well. The 26-episode second season ran from 2006 to 2007. Funimation licensed and released the first 26-episode season in North America, but did not announce any plans beyond that. Del Rey Manga shipped the sixth volume of Miyuki Etoo's manga adaptation in North America last November.
For the Blu-ray Edition of Shinji Aramaki's computer-animated Appleseed film adaptation of Masamune Shirow's paramilitary police manga, Sentai Filmworks is reuniting the ADV Films cast that dubbed the Appleseed: Ex Machina sequel film. Geneon Entertainment had once released the first Appleseed film on DVD before it ceased in-house production and distribution of its own licenses. ADV Films then reissued the film last June.
Update: More background information and Tokyopop's latest Asu no Yoichi! volume information added. Thanks, The Naked Beast.
Update 2: SXAniMedia confirmed with Section23 Films that Seraphim Digital Studios (Appleseed: Ex Machina, Halo Legends) will be handling the dub production for Appleseed. Steven Foster (Appleseed: Ex Machina, Halo Legends, Le Chevalier D'Eon) will be directing the dub. SXAniMedia also confirmed that the new dub will be exclusive to the Blu-ray release.
Image © Yū Minamoto (Akita Shoten)/Ikaruga Dōjō Supporters
© Kome Studio, Village Studio/Shueisha, TV Tokyo, NAS
© Hell Girl Project/SkyPerfect Wellthink, Aniplex
---