News

Funimation Adds Vampire Girl vs. Frankenstein Girl Film (Updated)

posted on by Egan Loo
Live-action horror comedy from Tokyo Gore Police director
---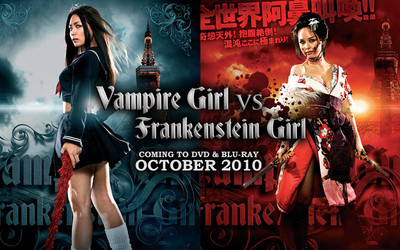 The North American distributor Funimation has announced on Wednesday that it acquired the live-action horror comedy film Vampire Girl vs. Frankenstein Girl from Eleven Arts Entertainment. Naoyuki Tomomatsu and Yoshihiro Nishimura directed this film, and Nishimura had previously directed Tokyo Gore Police and worked on The Machine Girl and Robogeisha. Funimation summarizes the story:
Valentine's Day turns twisted for Mizushima after the vampire schoolgirl Monami gives him a chocolate laced with vampire blood.  One bite of the delicious sweet infects him with immortality. This does not sit well with Mizushima's jealous girlfriend Keiko. She wants him all to herself.  A bloody battle between the two women ends with Keiko falling to her death.  To her luck, Keiko's mad scientist father reanimates her into an undead Frankenstein girl.  Now on a level playing field, the undead damsels fight for the heart of Mizushima.
Funimation will release this film on DVD and Blu-ray this October. The film has already been screened at the Toronto After Dark Film Festival, the Hong Kong International Film Festival, and the 2009 NY Asian Film Festival, where it won the Audience Award. It will be screened next at the Mayfair Theatre in Ontario, Canada from Wednesday through Friday. It will then run at the The Nashville Independent Film Festival on April 20.
Update: The Mayfair Theatre is in Ottawa, a city in Ontario, Canada. One of the film's two directors is Yoshihiro Nishimura, not Yoshihiro Tomomatsu. Nishimura directed Tokyo Gore Police without Naoyuki Tomomatsu. Thanks, zindryr.
---