News

Beyblade, Colorful, Pokémon, Umizaru Trailers Streamed

posted on by Egan Loo
---

The official website of the Japanese movie distributor TOHO is streaming new trailers for the Metal Fight Beyblade VS Taiyō Shakunetsu no Shinryakusha, Colorful, and Pocket Monster Diamond & Pearl: Genei no Hasha Zoroark anime films, as well as for the manga-based live-action film Last Message: Umizaru. (In the linked page, select the two top icons in the righthand "Coming Soon!" column for the Pokémon and Colorful trailers, or select the third and fourth icons in the lefthand "Coming Soon!" column for the Beyblade and Umizaru trailers.)
The Metal Fight Beyblade film is inspired by the ongoing television anime series of the same name. Like the television series, the film is based on the spinning-top game manga by Takafumi Adachi in Shogakukan's Monthly Coro Coro Comic magazine. Aki Kanada, the voice of the television anime's main character Ginga Hagane, will be in the film's cast. The North American production company Nelvana Enterprises announced last June that the renamed Beyblade: Metal Fusion television series will premiere in North America this fall. The film will open in Japan on August 21.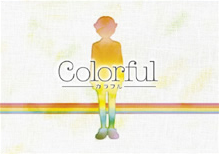 Hara, the director best known for Summer Days with Coo, is adapting Eto Mori's Colorful young adults' novel which won the Sankei Children's Publishing Cultural Prize in 1999. (The novel and film are unrelated to Torajirou Kishi's Colorful manga and television anime series.) The "heart-warming comedy" follows a person who finds himself trapped outside the normal endless circle of life and death. Thanks to "winning" a lottery in the angel world, the protagonist is brought back to inhabit the body of a 14-year-old boy — who just committed suicide. Thus, the protagonist begins a new life.
Shun Nakahara (Tomie: Forbidden Fruit) already directed a live-action film version of the same novel in 2000 with actor Koki Tanaka. Miho Maruo (The Dog of Flanders, Ultra Maniac) wrote the screenplay for the new anime film, which will open in Japan on August 21.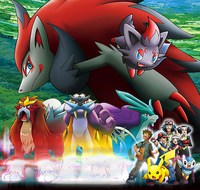 Pocket Monster Diamond & Pearl: Genei no Hasha Zoroark (The Phantom Champion Zoroark) marks the first appearance of the 495th Pokémon species, Zoroark. Kunihiko Yuyama, the director of most of the Pokémon projects and The Slayers films, is overseeing this fourth film in the Pokémon Diamond & Pearl sub-franchise. The film will open in Japan on July 10.

Shuho Sato's original Umizaru manga follows the lives of divers in the Japanese Coast Guard. Limit of Love, which is the second Umizaru film, earned 2006's highest box office take among all Japanese films except for Tales from Earthsea. The manga also spawned two television drama series, including one with the same cast as the films. The third film will open in Japan on September 18
Source: Nippon Cinema
Images © Takafumi Adachi, MFBBProject, TV Tokyo
© 2010 Metal Fight Beyblade Film Production Committee
© 2010 Eto Mori/Colorful Production Committee
© Nintendo, Creatures, GAME FREAK, TV Tokyo, Sho-Pro, JR Kikaku © Pokeḿon
©2010 Pikachu Project
---