News

Pirated Isshoni Training Android App Infected by Virus (Updated)

posted on by Egan Loo
Symantec: 1st smartphone virus in Japan is in pirated version of anime-based app
---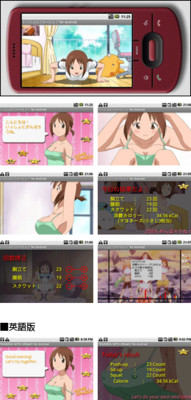 The computer security firm Symantec reported on what it described as the first confirmed virus aimed at smartphones in Japan, and the virus is hidden in a pirated version of the Isshoni Training: Training with Hinako anime's Android app. According to the report, the virus was actually discovered on phones between February and March.
Just by being installed, Symantec said that the virus-infected app allows an outsider to access the phone. From there, the outsider can reportedly extract the phone's contacts, location data, and email, as well as make calls.
Symantec asserted that until now, Japanese phones have maintained a high level of security due to the domestic phone systems' incompatibility with other countries' systems. (This technological isolation from global standards is also known as "Galapagos syndrome.") However, with smartphones now sharing common platforms worldwide, Symantec said that virus infections will increase on smartphones in Japan.
The original anime revolves around a 16-year-old girl named Hinako who was once human — until she was transformed into an anime character when she was in middle school. Now she stars in an exercise video. As covered in an ANN Interest article last August, the interactive app synchronizes footage of Hinako's exercising with the user's own push-ups, sit-ups, and squats.


The first accused virus creator to be arrested in Japan allegedly created a personal computer virus with still images from the Clannad television anime and placed the virus on the Winny file-sharing network.
Image © 2009 Primastea
Update: As described, the pirated version of the Isshoni Training app, the "virus" with Clannad images, and an earlier program hidden in a Kanon screensaver can be more accurately labeled as "Trojan horses" instead of "viruses," since they rely on users unknowingly putting them on their devices or computers to spread.
---