News

Hagane no Onna Creator Decries How Show Depicts Autistic Child (Updated)

posted on

2011-06-22

23:55 EDT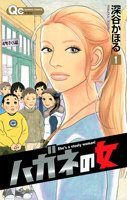 Kaoru Fukaya, the creator of the Hagane no Onna (She's a steely woman!) manga, announced on her website that she asked for her name to be removed from the credits of the second live-action television series based on the manga. Furthermore, she opposed the release of the show on DVD and other home video venues as well as through mobile and Internet streaming.
Fukuya explained that she opposed the depiction of teachers, children with special needs, and the children's guardians in the second episode of the live-action series.
In the show, actress Michiko Kichise (Nodame Cantabile, Bloody Monday) depicts plays Ineko Haga, a woman who becomes the teacher of a notoriously troublesome elementary school class.
The second episode depicts a child with Asperger's Syndrome, Tomoki, who joins Ineko Haga's class. Tomoki had trouble at his previous school. After a fire starts at the school with Tomoki present, the community begins to push to have the child removed from the class. It is up to Haga to protect Tomoki's interests when his mother is unreasonable.
Update: Episode background information added, headline updated with specific condition.
---