×
remind me tomorrow
remind me next week
never remind me
Subscribe to the ANN Newsletter • Wake up every Sunday to a curated list of ANN's most interesting posts of the week.
read more
News

Dark Horse Adds Oreimo, Blood-C, Evangelion: Comic Tribute Manga

posted on by Crystalyn Hodgkins
---

Dark Horse Comics announced at its panel at Sakura-Con on Saturday that it has licensed Sakura Ikeda and Tsukasa Fushimi's Ore no Imōto ga Konnani Kawaii Wake ga Nai (Oreimo) manga, Ranmaru Kotone Blood-C manga, the Evangelion: Comic Tribute anthology manga, Hiroaki Samura's Emerald and Other Stories manga, and Yoshitaka Amano's Deva Zan illustrated novel.
Ikeda is adapting Fushimi's original Oreimo light novel series in manga form. Dark Horse noted that Ikeda's manga has actually influenced the way Fushimi's light novel series has developed. The original light novels were adapted into a 16-episode television anime series in 2010-2011, and Aniplex of America released the series in North America on DVD. A second season of the series has been green-lit. Ikeda has been drawing the manga adaptation in ASCII Media Works' Dengeki G's magazine since 2009, and the fourth compiled volume was released in April 2011. Dark Horse will release the first volume in the series in September 2012.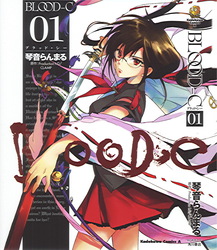 Ranmaru Kotone's (Diasta of Ultima Thule, Toki wo Kakeru Shōjo: Tokikake-) Blood-C manga is being serialized in Kadokawa Shoten's Newtype Ace and Shōnen Ace magazines. The second compiled volume was released in Japan in December 2011. The manga is an adaptation of Production I.G and CLAMP's Blood-C television series, which originally aired in 2011. A theatrical film, titled Blood-C: The Last Dark, will open in Japan on June 2.

Evangelion: Comic Tribute is an official one-volume anthology manga featuring the characters from the Neon Genesis Evangelion franchise. Artists who contributed to the anthology include: Mine Yoshizaki (Sgt. Frog), Hideki Ohwada (The Legend of Koizumi), Yun Kouga (Loveless), Nawoki Karasawa (Sake Jock, Super Cruel and Terrible Tales of Manga-ka), Yōko Sanri (B Gata H Kei - Yamada's First Time), Rui Takatō (Cynthia the Mission, Mikarun X), Keiichi Tanaka (Doctor Chichibuyama, ComiPo! program), Astroguy II (Queen's Blade Struggle), Kōtarō Yamada (The Sacred Blacksmith), Sessyu Takemura (Domin-8 Me!), Jun Abe (Portus), Tony Takezaki (Space Pinchy, A.D. Police), and Koushi Rikudo (Excel Saga) Dark Horse will release the anthology in February 2013.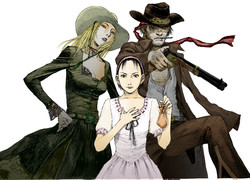 Hiroaki Samura's (Blade of the Immortal, Ohikkoshi) Emerald and Other Stories manga is a one-volume collection of seven short stories. Dark Horse will release Emerald and Other Stories in February 2013. Dark Horse also released Samura's one-volume Ohikkoshi manga in 2006, and it has been releasing Samura's Blade of the Immortal manga since 1995. Dark Horse released the 24th volume of the manga in October 2011.

Deva Zan will be the first novel that Amano has both written and illustrated. The novel is not an adaptation of a book previously published in Japan, but it is an original work that is being published first through Dark Horse. The book will contain more than 240 original paintings from Amano created especially for the book. The Deva Zan film, which marks the directorial debut of Amano, is scheduled to open worldwide in spring 2012.
Dark Horse describes Deva Zan as follows:
In Deva Zan, Amano wishes to give his own personal interpretation of Asian legends for a Western readership. The story centers around the twelve divine generals who in esoteric Japanese Buddhism stand guard over the universe at the points of the zodiac. But when they vanish, throwing the cosmos into disorder, the only person who can track them down is Deva Zan, a samurai without a memory. Assembling a team of bizarre warriors, Deva Zan goes on a pursuit through time and space that takes the battle everywhere from the fields of ancient Japan to the streets of modern-day New York City!
Dark Horse will release the novel this Halloween.
---