×
remind me tomorrow
remind me next week
never remind me
ANN Reader Survey • If you haven't had a chance yet, please fill out our annual survey, It's so helpful to us. As a thank you for filling out this massive survey, we're giving away 100 ANN subscriptions to people who fill it out.
read more
×
remind me tomorrow
remind me next week
never remind me
Subscribe to the ANN Newsletter • Wake up every Sunday to a curated list of ANN's most interesting posts of the week.
read more
News

Madman Entertainment Announces New Acquisitions at Manifest 2012

posted on by Jon Hayward
Nine new acquisitions announced at Melbourne Anime Festival;
---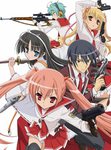 Aria the Scarlet Ammo
Butei is a national qualification that are allows the holder to arm themselves and capture criminals as a method of countering worsening crime conditions. Kinji Tōyama is an low ranking student at Tokyo Butei High, an education facility where students undergo training in specialised fields to become Butei. When Kinji decides to quit the school he is caught in an attack by the Butei Killer and encounters Aria H. Kanzaki, the most powerful S-Rank Butei student in Assault Studies.
Based on the Japanese light novel series by Chūgaku Akamatsu with illustrations by Kobuichi this anime adaptation is directed by Takashi Watanabe (Freezing, Ikki Tousen, Shakugan no Shana) with J.C. Staff. Kazunori Iwakura (Ai Yori Aoshi, Daphne in the Brilliant Blue) handles character designs and Teruhiko Niida (Ōkami-san & Her Seven Companions, Toaru Kagaku no Railgun) on Art Direction. The series runs for 12 episodes and originally aired in March, 2011.

Naruto Shippūden: The Will of Fire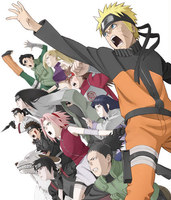 The Fourth Great Ninja World War threatens to break out when ninja with bloodline limits start disappearing and the the blame points towards the Land of Fire and more specifically, Konohagakure. With the other nations threatening invasion, Tsunade is ordered to capture the real culprit or the village will be destroyed to preserve world peace. Kakashi goes to find the culprit on his own and Tsunade declares Kakashi a missing-nin and orders everyone to stay away from him. Of course Naruto and Sakura disobey the order and and have to fight through friend and foe to rescue Kakashi and prevent a world war.
This theatrical anime film is directed by Masahiko Murata (Shikabane Hime: Aka / Kuro, Naruto Shippūden) with a screenplay by Junki Takegami (Gegege no Kitarō, Naruto Shippūden) and chracter design by Tetsyua Nishio (Ghost in the Shell: Stand Alone Complex: Solid State Society, Naruto, Naruto Shippūden).

InuYasha: The Final Act
InuYasha: The Final Act continues from where the original
InuYasha
series ended and adapts the story from the final 21 volumes of
Rumiko Takahashi
's original manga. InuYasha, Kagome, Miroku, Sango, Shippou and their neko-mata friend Kirara, are now in the final leg of their quest to put an end to the elusive demon, Naraku and all of the chaos and evil he has caused, and to ultimately undo the unfortunate karma of the
Jewel
of Four Souls. Their journey, however, will not be easy as their remaining enemies put out all the stops to make sure that they do not accomplish their goal.
The original staff and cast reunited for the adaptation with Yasunao Aoki (InuYasha, Yakitate!! Japan) returning to the director's chair and Katsuyuki Sumisawa (Mobile Suit Gundam Wing, Dragon Ball Z) handling series composition and scripts. The series was produced again by Sunrise and ran for 26 episodes in 2009. While the entire japanese voice cast returned, the english dub has Kira Tozer replacing Moneca Stori as Kagome Higurashi and Michael Daingerfield replaced David Kaye as Sesshomaru. The remainder of the english voice cast remained including Richard Ian Cox as InuYasha, Kirby Morrow as Miroku and Jillian Michaels as Shippo.
Code Geass: Akito the Exiled

Code Geass: Akito the Exiled (Bōkoku no Akito) follows a side story set around the same time that Lelouch takes on his "Zero" identity and starts to build his "Black Knights" rebellion army. This
OVA
focuses on the invasion of the Euro Universe (E.U.) by the Holy Britannian Empire and special division "Wyvern" Knightmare corps. These corps are comprised entirely of Japanese teenagers and commanded by Layla Malkal (
Maaya Sakamoto
), a former Britannian Aristocrat. The story follows Akito Hyuuga (
Miyu Irino
) as he and the rest of the Wyvern corps are plunged into the battlefield with a 5% chance of survival.
This OVA has just been released in Japan and will consist of four episodes. Kazuki Akane (Birdy the Mighty: Decode, (The) Vision of Escaflowne) directed and wrote the screenplay with Miya Asakawa (Turn A Gundam, Polar Bear's Café). As in the previous two television series, Takahiro Kimura is adapting Clamp's original character designs for animation. Akira Yasuda is also returning to design the mechanical Nightmare units with a soundtrack by Ichiko Hashimoto (RahXephon). The anime studio Sunrise, the previous Code Geass director Goro Taniguchi, and the previous series script supervisor Ichiro Okouchi are credited with the original story.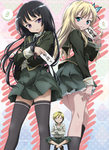 Haganai
Haganai revolves around Hasegawa Kodaka (
Ryohei Kimura
), a half-Japanese/half-British transfer student whose delinquent-like blonde hair and fierce eyes scare people. One day Kodaka comes across a seemingly perpetually sullen girl named Yozora Mikazuki (
Marina Inoue
) while she converses with her imaginary friend. The two decide to form Rinjinbu (the Neighbor's Club) a club for misfits intended to make friends and learn social skills.
Based on Yomi Hirasaka and Buriki's original Boku wa Tomodachi ga Sukunai light novels, this 12 episode anime adaptation is directed by Hisashi Saito (Heaven's Lost Property, Bamboo Blade) on a screenplay from Tatsuhiko Urahata (Gunslinger Girl: Il Teatrino, Mahoromatic: I'm Home!). Yoshihiro Watanbe (Boku wa Tomodachi ga Sukunai, Heaven's Lost Property) converts Buriki's character designs for the show and Yuka Hirama (Boogiepop Phantom) handles art direction.
Michiko to Hatchin

Hana "Hatchin" Morenos is a young girl abused by her strict foster parents and has since given up on her dreams of freedom.
Michiko
Malandro is a free-willed "sexy diva" who has escaped from a supposedly inescapable prison. When Hatchin crosses Mitchiko's path they join forces and set off on a journey across a lawless land in search of a missing man from both their pasts.
This 2008 series runs for 22 episodes and was produced by Manglobe (Samurai Champloo, Deadman Wonderland) and was Sayo Yamamoto's debut as an director after storyboarding Samurai Champloo, Ergo Proxy and Eureka Seven (She recently directed Lupin III: The Woman Called Fujiko Mine). The series was penned by Takashi Ujita (script writer for the live-action film Freesia) with art direction from Seiki Tamura (Lucky Star, K-ON!) and interestingly enough the music producer was Shinichiro Watanabe who was responsible for Cowboy Bebop and Samurai Champloo.

Rurouni Kenshin: Shin Kyoto-Hen
This new
Rurouni Kenshin
OVA retells the Kyoto story arc of
Nobuhiro Watsuki
's original manga from the perspective of the Oniwabanshū ninja, Misao Makimachi. The arc follows wandering swordsman Kenshin Himura and his quest to stop Makoto Shishio taking over Japan. Director
Kazuhiro Furuhashi
,
Studio DEEN
and music composer
Noriyuki Asakura
returned to animate the OVA.
Mari Okada
(
anohana
,
Wandering Son
) wrote the screenplay and
Hiromitsu Hagiwara
(
Saint Beast ~Ikusen no Hiru to Yoru Hen~
) is the new character designer with
Hiro Kaburaki
(
Kimi ni Todoke
) taking over as the episode director. The original cast has returned including
Mayo Suzukaze
as Kenshin Himura,
Miki Fujitani
as Kaoru Kamiya and
Tomo Sakurai
as Misao Makimachi. However due to
Hirotaka Suzuoki
passing away in 2006 the role of Hajime Saito is now voiced by
Ken Narita
.
Eureka 7: Astral Ocean

Eureka Seven: AO is set in the year 2025 in Okinawa on the island of Iwato Jima. It follows Ao Fukai, a 13 year old boy and son to Eureka. He has been cared for by Dr. Toshio Fukai since Eureka disappeared when Ao was three. When Ao witnesses a battle with a G-Monster he manages to activate the Nirvash while it is being transported by the
Self-Defense Forces
and he later finds that the Nirvash used to belong to his mother. This sets in motion a journey for Ao to find Eureka and find the truth of his origins.
BONES created the original 2005-2006 Eureka Seven television anime series and the series inspired the 2009 anime film Eureka Seven - good night, sleep tight, young lovers. The sequel features the return of the original anime's director Tomoki Kyoda as well as several mechanical designers, art director, color stylist, visual effects director, and director of photography. The first anime's character designer Kenichi Yoshida and main mechanical designer Shoji Kawamori are also credited for "key character designs" and "Nirvash designs" respectively.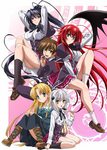 High School DxD
Issei Hyōdō (
Yuuki Kaji
) is a dim-witted, lecherous second-year high school student who is brutally attacked and killed on his first date. The next morning, Issei wakes up thinking the entire ordeal is a dream and then is shocked when Rias Gremory (
Yōko Hikasa
), a buxom third-year student at Kuoh Academy, is naked in his room. Rias reveals herself as a Devil who has reincarnated Issei as a Devil to serve as her underling.
The series is based off Ichiei Ishibumi's Japanese light novel series and is directed by Tetsuya Yanagisawa (UFO Princess Valkyrie, Strawberry Eggs) from a script by Takao Yoshioka (Familiar of Zero, Elfen Lied). Junji Gotō (School Days) converts Miyama-Zero's original character designs to the screen under art direction from Shigemi Ikeda (InuYasha, Book of Bantorra). The series was produced by TNK and originally aired in Japan in January 2012. The series runs for 12 episodes.
You can also view the announcement at Madman Entertainment's website.
With thanks to Mark Sombillo for reporting from Manifest 2012.
---
this article has been modified since it was originally posted; see change history