News

Fullmetal Alchemist's Oshima Composes 2013 Aura Film

posted on by Lynzee Loveridge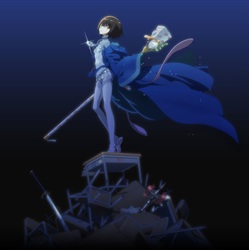 The official website for Aura: Maryūinkōga Saigo no Tatakai anime film was updated on Wednesday to confirm Michiru Oshima as the feature's music composer.
Oshima scored several well-known anime series including the first Fullmetal Alchemist television series, the music-themed series BECK: Mongolian Chop Squad, and most recently BONES' Blast of Tempest anime series. Oshima also worked on the Fullmetal Alchemist: The Movie - Conqueror of Shamballa and the Fuse Teppō Musume no Torimonochō anime films. Fuse opens in Japan on Saturday.
Aura: Maryūinkōga Saigo no Tatakai is based on Romeo Tanaka's (Humanity is Declining) 2008 light novel. The school romantic comedy novel revolves around Ichirō "Menzu" Satō, a high school freshman who forgets his textbook at school one day. Ichirō encounters a beautiful girl while sneaking back into his school in the dead of night. The girl calls herself a witch from a parallel world. Ichirō used to suffer delusions of grandeur like this, but vowed to stop so that he can successfully re-invent himself as a freshman in high school.
Oshima joins director Seiji Kishi, story composer Makoto Uezu, scriptwriter Jun Kumagai, and character designer Kazuaki Morita on the film's staff.
The film was once listed for this year before its official unveiling, but the website now lists a 2013 opening date.
Source: Saishin Anime Jōhō
---