News

One Piece Film Z Sells 4 Million+ Tickets in 20 Days

posted on by Egan Loo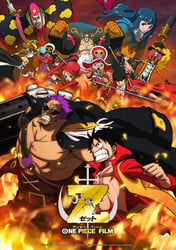 One Piece Film Z sold over 4 million tickets in the 20 days since it opened on December 15, and thus has surpassed its 2009 predecessor One Piece Film Strong World (3.85 million). As of its 19th day (January 2), it has sold 3.9312 million tickets and earned 4.713 billion yen (about US$53.97 million). By contrast, One Piece Film Strong World earned 4.8 billion yen (US$54.97 million) during its entire theatrical run.
One Piece Film Z is also the fastest domestic film to sell 1 millon tickets in 2012. It sold 600,000 tickets for 750 million yen (US$9 million) on its first day, and 1.14 million tickets for 1,372,050,000 yen (about US$16,339,700) its opening weekend — the highest of any film in 2012.
In its 19th day, the film's box office total is now 145.6% higher than One Piece Film Strong World was in its 19th day.
Attendees of the movie received 2 million copies of an 84-page "Volume 1000" of One Piece, which contains designs and an exclusive One Piece Treasure World card. Since the first shipments of 2 million copies ran out, another 2 million copies (without the card) were printed. Oricon projects that the film will approach the 7.5 billion-yen (US$86 million) box office total of Brave Heart Umizaru, the current highest-grossing domestic film of 2012.
Source: Oricon
---