News

MVM Will Release Kids on the Slope on Blu-ray on June 24

posted on

2013-02-08

09:44 EST
Series available for pre-order on Anime-on-line.
---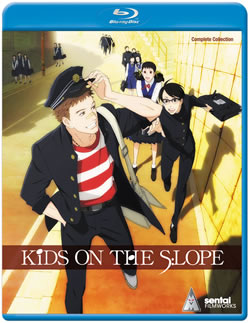 MVM Entertainment has tweeted that it will release Kids on the Slope on Blu-ray, scheduled for June 24. It also said that it hopes to have copies available at MCM Expo. The Blu-ray Complete Collection is available for pre-order on the Anime-on-line site here (pictured). The DVD edition is available here.
Kids on the Slope, a story of "love, friendship, and music" follows a naive boy and a scruffy boy in a provincial town in Nagasaki Prefecture in the late 1960s. The anime adapts Yuki Kodama's coming-of-age manga Sakamichi no Apollon. The project reunited Cowboy Bebop's director Shinichiro Watanabe (Macross Plus, The Animatrix's "Kid's Story," Samurai Champloo) and composer Yoko Kanno (Macross Plus/Frontier, Escaflowne, Ghost in the Shell: Stand Alone Complex). Nobuteru Yuki (Record of Lodoss War, Escaflowne, Space Battleship Yamato 2199) designed the characters, and Yoshimitsu Yamashita (Hyouge Mono, Phantom ~Requiem for the Phantom~) was the chief animation director at the studios MAPPA/Tezuka Productions.
The series was broadcast on Fuji TV's late-night Noitamina programming block in Spring 2012.
---
discuss this in the forum (3 posts)
|
bookmark/share with:
this article has been modified since it was originally posted; see change history