News

Rumiko Takahashi Draws New 1-Shot Rumic Theater Manga

posted on by Joanne Mertz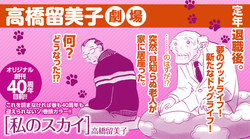 This year's fifth issue of Shogakukan's Big Comic Original magazine announced on Tuesday that Rumiko Takahashi will draw a new Rumic Theater (Takahashi Rumiko Gekijō) manga installment in the next issue on March 5. To mark the 40th anniversary of Takahashi's career, the "Watashi no Sky" (My Sky) story follows a man entering into the mandatory retirement age after leaving his company. He looks forward to living the good life — until a strange geriatric man suddenly settles into his home.
Takahashi is one of the wealthiest individuals in Japan due to her international manga successes such as Urusei Yatsura, Maison Ikkoku, Ranma 1/2, and Inu Yasha. Her career started in 1978 with the one-shot Katte na Yatsura and has continued for 35 years with her current serialization, RIN-NE.
[Via Manga News]
---