News

Hitomi Makes Voice-Acting Debut & Sings for New Tamagotchi TV Anime

posted on by Egan Loo
---

Singer hitomi is contributing the theme songs for Go-Go Tamagotchi!, this spring's new television anime inspired by Bandai's Tamagotchi! virtual pets. Plus, she will make her voice-acting debut as the character "hitomicchi" in the episode airing on June 5. The singer said that she was very happy to be able to perform theme songs for Tamagotchi!, which even her daughter loves.
The singer is performing both the opening and the ending theme songs. The opening will be a cover of the earlier series' theme song, "Go-Go Tamagotchi!" The ending theme song will be "Rainbow," a new song created for the anime. The singer said that she incorporated the anime's themes of "the importance of friends" and "the wonderfulness of striving for your dreams" into the lyrics. She previously sang an opening theme song, "I Am," for Inuyasha.
Go-Go Tamagotchi! is a new series follow-up to last year's Tamagotchi! Miracle Friends, which is airing now on TV Tokyo and its affiliates. The popular characters from previous series such as Lovelycchi, Melodycchi, Yumemicchi, and Kiraricchi will be joined by Oyajicchi and others making their television anime debut.
Go-Go Tamagotchi! will premiere on Thursday, April 3 at 6:30 p.m. on TV Tokyo and its affiliates. Mainichi Shimbun's Mantan Web posted more images on its site.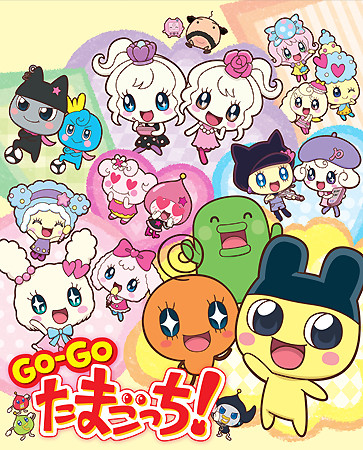 Bandai launched the Tamagotchi franchise in 1996 and sold about 40 million virtual pets in that first batch. It then revived the brand in 2004 and sold over 38 million more Tamagotchis, 1.72 million of them in the Tamagotchi iD line that launched in 2009.
The first two Tamagotchi television anime series were the 1997-1998 Anime TV de Hakken! Tamagotchi television series and the 2007-2008 Saikō! Tamagotchi television series (which Bandai is still streaming in seven languages on YouTube). There were also the 1997 Tamagotchi Honto no Hanashi theatrical short, the 2007 Eiga de Tōjō! Tamagotchi Doki Doki! Uchū no Maigotchi!? feature film, and the 2008 Eiga! Tamagotchi Uchū Ichi Happy na Monogatari!? feature.
After Bandai revived the franchise in 2004, a new Tamagotchi! television anime premiered in 2009. The Tamagotchi! Yume Kira Dream television anime followed in 2012.
Source: Mainichi Shimbun's Mantan Web
Image © Bandai, WiZ/TV Tokyo 2013 Team Tamagotchi TV
---