News

Fate/Stay Night Anime Remake's Cast, Staff Revealed

posted on by Karen Ressler
Cast members from original return for remake
---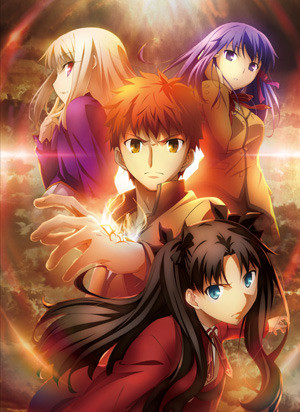 The official website for the fall 2014 remake of the anime Fate/Stay Night updated with the show's staff and cast.
The cast so far remains unchanged from the original version:
Noriaki Sugiyama as Shirou Emiya
Ayako Kawasumi as Saber
Kana Ueda as Rin Tohsaka
Junichi Suwabe as Archer
Noriko Shitaya as Sakura Matou
Mai Kadowaki as Illyasviel von Einzbern
Nobutoshi Canna as Lancer
Miki Itou as Taiga Fujimura
Jouji Nakata as Kirei Kotomine
Rikiya Koyama as Kiritsugu Emiya
The staff includes:
Color key: Emi Chiba, Mika Matsuoka
Art director: Koji Eto
Director of Photography: Yuichi Terao
Animation production: ufotable
Takahiro Miura (Fate/Zero, The Garden of Sinners episode director) will direct the anime, while Atsushi Ikariya, Tomonori Sudou, and Hisayuki Tabata will be adapting Takashi Takeuchi's original character designs.
Aniplex also revealed a new trailer and character designs at its booth at Anime Japan last weekend.
Studio DEEN previously animated the fate/stay night television anime series in 2006. The studio also produced the Fate/stay night: Unlimited Blade Works film in 2010, which covered The Unlimited Blade Works storyline from Type-Moon's game franchise.
Sentai Filmworks released both the television anime series and the film in North America. Funimation had released the television series before that in 2009. Tokyopop published 11 volumes of Datto Nishiwaki's manga version in North America before its North American branch shut down in May 2011.
The studio ufotable previously animated the Fate/Zero prequel television anime series that was based on Gen Urobuchi and Type-Moon's novel. Aniplex of America released that series in North America on Blu-ray Disc, and the company then reissued the series on DVD and Blu-ray Disc with an English dub.
Thanks to Rachel S. for the news tip.
Image © TYPE-MOON, ufotable, Fate/Stay Night Production Committee
[Via: NicoTubeAnime]
---