×
remind me tomorrow
remind me next week
never remind me
Subscribe to the ANN Newsletter • Wake up every Sunday to a curated list of ANN's most interesting posts of the week.
read more
News

2nd Persona 3 Film's New Promo Previews Love Hotel Scene

posted on by Sarah Nelkin
---
The official website for the Persona 3 films updated at midnight on Tuesday, and posted a new promotional video for the upcoming Persona 3 the Movie #2 Midsummer Knight's Dream film. The video features the theme song "Fate In Our Hands" by Lotus Juice.
Yukari: When I found out I had power, I thought it wasn't a coincidence. I was scared, but I thought I could learn something about dad... But in the end, there wasn't a reason for me to be here. After all, dad... It was all his fault.
Junpei: All right! It's here! The blue ocean, the white sand!
Fuka: Kirijo-senpai, you're so pretty.
Yukari: This is amazing!
Junpei: This kind of thing is just so great!
Aegis: I've found you. There's no mistaking it.
Ikutsuki: Her name is Aegis. As you can see, she is a robotic maiden.
Shinjiro: I've already thrown away my power.
Mitsuru: This is the Kirijo family's sin...
Yukari: What dad did...
Takaya: Would you like to go back to your boring normal life?
Makoto: Then things should stay the way they are.
Ken: Please let me fight with you!
Makoto: Aegis!
Aegis: Makoto!
Elizabeth: However, please be careful of an approaching entity...
Yukari: No!!

The website is also displaying a new key visual for the film:

The website announced three returning cast members from the game: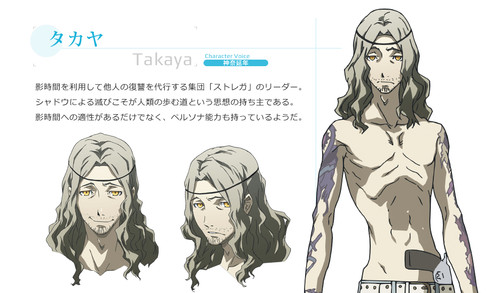 Nobutoshi Canna
(
Shaman King
,
Little Busters!
) as Takaya, the leader of
Strega
. His wish is for humanity to fall into ruin by the power of the Shadows. In addition to being able to act freely during the Dark Hour, he can also use a Persona.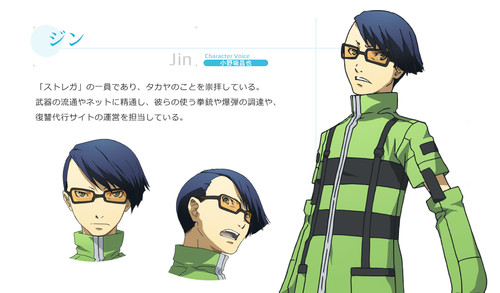 Masaya Onosaka
(
Tales of Symphonia the Animation
,
Hajime no Ippo Rising
) as
Jin
, a member of Strega who deeply respects Takaya. With his skills with technology and weapons, he runs Strega's website.

Miyuki Sawashiro
(
Galaxy Angel
,
K
) as Chidori, the only female member of Strega. With her Persona, she supports Takaya and Jin. She can be found from time to time at the area in front of the station sketching.
The new cast will join:


Akira Ishida
(
Slayers Next
,
Neon Genesis Evangelion
) as Makoto Yūki, the protagonist. He has the wildcard Persona, meaning he can use various Personas and not just one.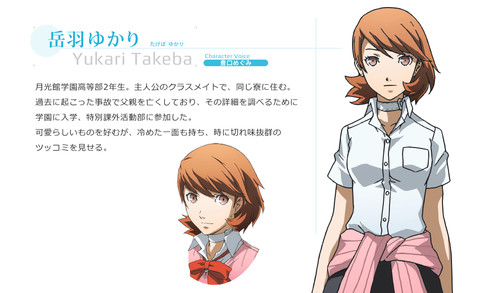 Megumi Toyoguchi
(
The Sacred Blacksmith
,
Danganronpa The Animation
) as Yukari Takeba, Makoto's female classmate who is on the archery team. Her persona is Io.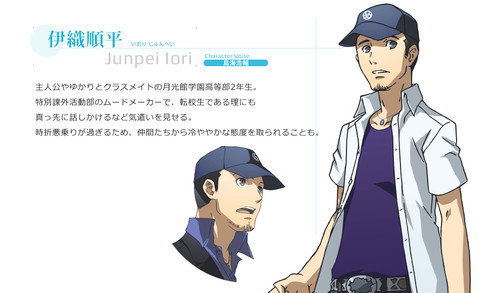 Kousuke Toriumi
(
Hakuouki
,
Prétear
) as Junpei Iori, Makoto's classmate and close friend. He likes cracking jokes in almost any situation. His Persona is Hermes.

Rie Tanaka
(
Hyperdimension Neptunia
The Animation,
Chobits
) as Mitsuru Kirijō, Makoto's upperclassman and the president of the student council. She is close friends with Akihiko, and they have known each other since middle school. Her Persona is Penthesilea.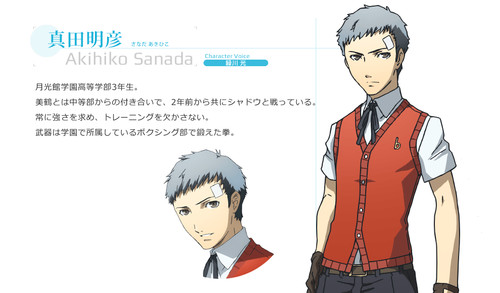 Hikaru Midorikawa
(
Majestic Prince
, Slayers Next) as Akihiko Sanada, the captain of the school boxing team. He is obsessed with training, and often gets scolded by Mitsuru for overdoing it. His Persona is Caesar.

Mamiko Noto
(
Hell Girl
,
Arcana Famiglia
) as Fūka Yamagishi, a girl in a different class than Makoto and the others. Although very shy, she is extremely kind. Her Persona is Lucia.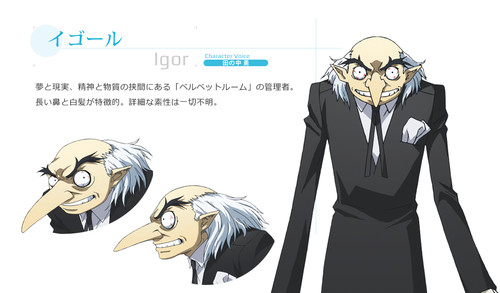 Voice recordings from the late
Isamu Tanonaka
will voice Igor, the master of the Velvet Room. A very mysterious old man who has the ability to read destinies and fuse Personas.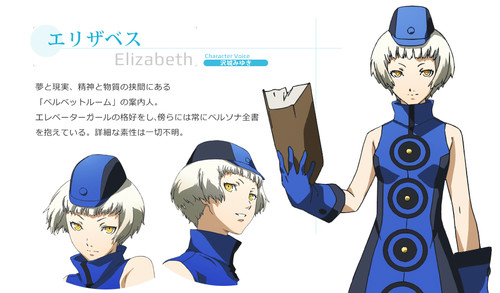 Miyuki Sawashiro (Galaxy Angel, K) plays Elizabeth, a guide of the Velvet Room who is a bit eccentric and curious about the outside world.

Kazuya Nakai
(
One Piece
,
Gintama'
) will play Shinjirō Aragaki, an upperclassman and friend of Akihiko and Mitsuru's who left the school and Iwatodai dorm for reasons unknown.

Maaya Sakamoto
(
Coppelion
,
Final Fantasy VII: Advent Children
) as Aegis, an anti-shadow robot. For some unknown reason, she considers it her mission to protect and serve Makoto. Her Persona is Palladion.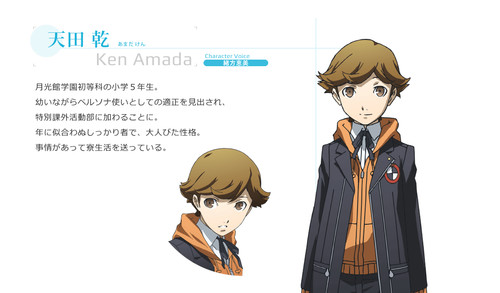 Megumi Ogata
(
Yū Yū Hakusho
, Danganronpa The Animation) as Ken Amada, an elementary school boy who was found to have the potential to summon a Persona. Though young, he sports a very mature attitude. His Persona is Nemesis.

Unchanged from the game, Koromaru has no credited
voice actor
. His Persona is
Cerberus
.
Tomomi Ishikawa will direct the film at A-1 Pictures from scripts by Jun Kumagai with supervision by Seiji Kishi. Keisuke Watabe is designing the characters for the film, and will also serve as animation director. Shoji Meguro and Tetsuya Kobayashi are scoring the soundtrack.
The film will open on June 7 in Japanese theaters.
In the game's story, there is a hidden time known as the "Dark Hour" that exists between one day and the next when all movement in the town stops. During this time, terrible creatures called Shadows roam, and a group of high school students in the city of Iwatodai are drawn into the Dark Hour to fight these creatures and explore the mysterious tower of Tartarus. This group uses weapons called Evokers that are used to summon Personas.
Images © Index Corporation/Persona 3 the Movie Production Committee
---