×
remind me tomorrow
remind me next week
never remind me
Subscribe to the ANN Newsletter • Wake up every Sunday to a curated list of ANN's most interesting posts of the week.
read more
News

Miyazaki Working on Ghibli Museum Shorts, Multiple Pet Projects

posted on by Lynzee Loveridge
Miyazaki is attending the Academy's Governor's Ball at the request of Pixar's
John Lasseter
---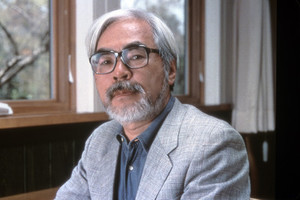 Hayao Miyazaki held a series of interviews with The Hollywood Reporter, The LA Times, and Variety to discuss his honorary Academy Award, his current projects, the state of hand-drawn animation, and the future of Studio Ghibli.
Miyazaki reiterated that while he will attend the ceremony on Los Angeles, he is not looking forward to the plane ride nor is he a fan of awards in general, but was told to attend by his friend and Pixar chief creative officer John Lasseter. Miyazaki speculated that Lasseter was behind him receiving the award. He said that Lasseter promised to let him ride the train he has in his yard.
"This was sort of an order from my good friend John Lasseter, that I had to go to America to receive the award. I said 'Yes sir, I'll go,'" Miyazaki told the LA Times. "He promised me that I could drive his model train after the ceremony. That's what I'm looking forward to."
Despite his retirement from feature films last year, he continues working on a multitude of projects, including a samurai manga for Model Graphix magazine, short films for the Ghibli Museum, and the Japanese cover for Westall's The Call and Other Stories.
Miyazaki stated that due to the influx of projects, he is not sure he will get to finish his samurai manga, "I have my doubts as to whether I can finish it or not. I wanted to put a lot of effort into it, ignoring costs, like a hobby. I thought I'd have free time, but I keep getting project offers. Not necessarily lucrative ones, but they have a significance for me."
Recently, Miyazaki was asked by a friend to draw a logo for a new facility on Kumejima in Okinawa. The facility was constructed for families in Fukushima to be outdoors, since areas affected by the Fukushima Daiichi Nuclear Power Station leak after the 2011 Great East Japan Earthquake are no longer safe for children to play in.
After initially working four days a week in his atelier behind Studio Ghibli, Miyazaki is now working Monday through Friday, but tries to take off weekends and take extended trips.
"I intend to work until the day I die. I retired from feature-length films but not from animation. Self-indulgent animation," he said in reference to his short films for the Ghibli Museum. Miyazaki continues to draw animation with paper and pencils. He said that while neither CG animation or hand-drawn animation is better than the other, he fears the latter is dying.
"I think talent decides everything. More than the method, what's important is the talent using it. There's nothing inherently wrong or right about a method, whether it be pencil drawings or 3-D CG. Pencil drawings don't have to go away, but those who continue to use the medium lack talent. So sadly, it will fade away," Miyazaki said.
Miyazaki gave mixed answers on the state of Studio Ghibli. He told the LA Times that the studio is not currently working on a film and "I think we will not be making any feature films to be shown in theaters. That was not my intention, though. All I did was announce that I would be retiring and not making any more features."
He also told The Hollywood Reporter, "But I do want to continue making short films such as the ones we show at the Ghibli Museum. I will continue making those. We will continue to make short films for the Ghibli Museum with a small staff of animators. But I think gradually it will quietly disappear in the future."
In contrast, Miyazaki's assistant told Variety that Ghibli is not going to abandon filmmaking. Miyazaki commented, "I'm working with the museum staff, but as for the whole of Ghibli, I don't know anymore. I don't want to get involved in that sort of thing. I'll be here as long as they let me do what I want to do."
Thanks to Liam for the news tips
Source: Variety, The Hollywood Reporter, LA Times
---