News

Zelda Manga Series by Akira Himekawa Returns After 7 Years

posted on by Egan Loo
Duo had drawn Skyward Sword prologue in 2011 after drawing 1998-2008 manga series
---
The two manga creators who go by the name Akira Himekawa announced on Thursday that they are returning to The Legend of Zelda manga series in 2015 after a seven-year hiatus. They have already begun drawing the manga, and they posted the art below to celebrate the news:

"2015, after 7 years … The Legend of Zelda manga series returns! Please support it!"
"Which version of me can you meet this time? Look forward to finding out!!"
Akira Himekawa serialized The Legend of Zelda manga series from 1998 to 2008. The duo did draw a prologue to The Legend of Zelda: Skyward Sword game in 2011.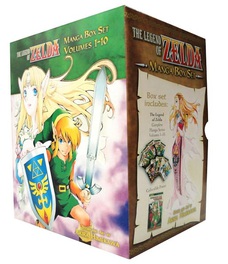 Viz published 10 volumes of Himekawa's previous Zelda manga in North America, including The Legend of Zelda: Ocarina of Time, Majora's Mask, Oracle of Seasons, Oracle of Ages, Four Swords, The Minish Cap, A Link to the Past, and Phantom Hourglass.
Himekawa also drew manga adaptations of Legend of Crystania, Nazca, Astro Boy - Tetsuwan Atom, and Brave Story. Their Gliding REKI manga series was a finalist in the 2007 Japan Media Arts Festival. More recently, they worked on the manga adaptation of My Little Pony: Friendship is Magic.
[Via Hachima Kikō]
---