News

Singapore's Anime Festival Asia Announces Musical Guest Lineup

posted on by Rafael Antonio Pineda
---
Anime Festival Asia began streaming an announcement video on its website on Saturday that revealed its musical guest lineup for its main convention in Singapore. The guests will perform at the event's "I Love Anisong Reboot" concert on November 27 to 29.
Musical guests include:
Back-On (Air Gear, Gundam Build Fighters, Fairy Tail)
bless4 (Genesis of Aquarion, Amagi Brilliant Park)
HoneyWorks/CHICO with Honeyworks (Magic Kaito 1412, Tokyo Ravens, Blue Spring Ride)
ZAQ (Love, Chunibyo & Other Delusions!, Non Non Biyori, Maria the Virgin Witch)
Ayana Taketatsu (K-ON!, Momokyun Sword, The Pilot's Love Song)
Maaya Uchida (Gatchaman Crowds, Robot Girls Z, The [email protected] Cinderella Girls)
Suzuko Mimori (Tantei Opera Milky Holmes, Love Live!, Teekyū)
Michi (Rokka: Braves of the Six Flowers)
Shiori Mikami (Yuruyuri - Happy Go Lily, Ixion Saga DT, Ōkami-san & Her Seven Companions)
Yumiri Hanamori (The Rolling Girls, Etotama)
Yurika Endō (The Severing Crime Edge, Z/X Ignition, Ace of Diamond)
GARNiDELiA (Kill la Kill, The irregular at magic high school, Gundam: Reconguista in G)
May'n (Macross Frontier, Ōkami-san & Her Seven Companions, Valkyria Chronicles 3)
Mika Kobayashi (Attack on Titan, Guilty Crown, Kill la Kill) with Tetsuro Shimaguchi (KAMUI)
nano (Btooom!, Arpeggio of Blue Steel, M3 the dark metal)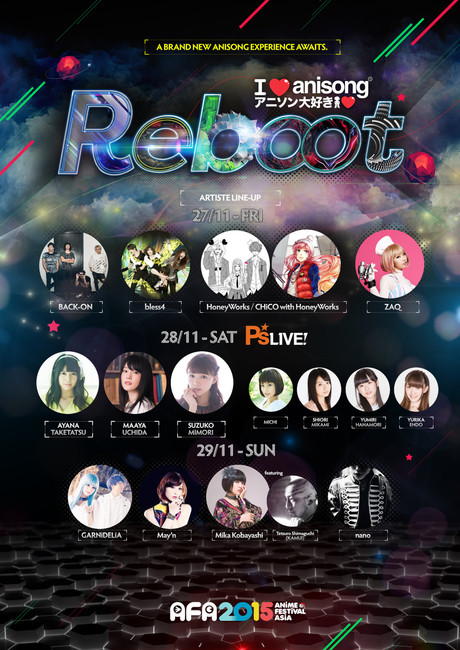 The event's second day on November 28 is labeled as a P's LIVE concert, which is Japanese music label Pony Canyon's name for its concerts with Pony Canyon-associated voice actors, actresses, and artists. Ayana Taketatsu, Maaya Uchida, Suzuko Mimori, Michi, Shiori Mikami, Yumiri Hanamori, and Yurika Endō are all affiliated with Pony Canyon and have previously performed at P's LIVE concerts in Japan. This will be the first time that Pony Canyon will hold a P's LIVE concert outside of Japan. Pony Canyon held the last P's LIVE concert on March 8 in the Yokohama Arena.
Anime Festival Asia Singapore will hold its event from November 27 to 29. Anime Festival Asia began in Singapore in 2008, and has since held sister events in Indonesia and in Thailand.
The Anime Festival Asia convention held its Bangkok, Thailand event from April 30 to May 3, and will hold its event in Indonesia from Friday to Sunday.
---