News

Funimation Unveils Daimidaler's Dub Cast, Trailer, December 15 Date

posted on by Rafael Antonio Pineda
---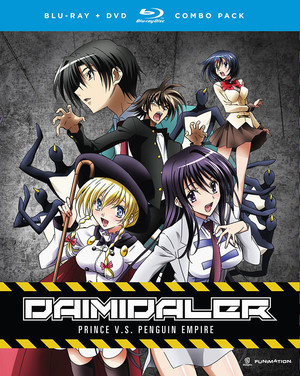 North American anime distributor Funimation announced on Tuesday that it will release the Daimidaler: Prince VS. Penguin Empire anime on DVD and Blu-ray Disc on December 15. Funimation also announced the English dub cast for the anime.
The cast, under ADR director Clifford Chapin and head writer John Burgmeier, includes:
Matthew Mercer as Kouichi
Emily Neves as Kyoko
Cherami Leigh as Kiriko
Todd Haberkorn as Shouma
J. Michael Tatum as Matayoshi
Patrick Seitz as Penguin Emperor
Tessa Ellory as Ritz
Funimation streamed a trailer which previews the dub:
Funimation describes the series:
The creators of High School DxD bring you a ridiculously raunchy romp through a world filled with mechs powered by perversion! The earth is under attack by the alien Penguin Empire and only heroes able to produce Hi-Ero particles need apply. Piloting the Daimidaler mechs are master pervert Kouichi with his take-no-prisoners libido and Kiriko, a girl who can level cities just by thinking of her boyfriend. It's up to them to dodge the massive front tails of the filthy penguin commandos and go toe to toe with rival mechs powered by a girl who loves penguins a little too much. Experience an overflow of Hi-Ero power with brave Daimidaler!
The series reunited the staff of the High School DxD television anime series, with director Tetsuya Yanagisawa (Heaven's Lost Property the Movie: The Angeloid of Clockwork, Destiny of the Shrine Maiden, Shattered Angels), scriptwriter Takao Yoshioka (Ikki Tousen, Elfen Lied), character designer and chief animation director Junji Goto (School Days), production company GENCO, and animation studio TNK (Ikki Tōsen: Xtreme Xecutor). Ibuki Kido, Ayaka Ohashi, and Azusa Tadokoro performed the ending theme "Suki Suki//Links" as their characters.
The anime is inspired by Asami Nakama's original Daimidaler the Sound Robot manga, which ran in Enterbrain's Fellows! magazine (now known as Kadokawa's harta magazine) from 2008 to 2012, and Kadokawa published four compiled book volumes. In October 2013, Nakama launched a sequel called Kenzen Robo Daimidaler OGS that runs in harta every other month. Funimation previously streamed the anime as it aired in Japan this past spring.
Update: Typo fixed. Thanks, D00dleB0Y
---