×
remind me tomorrow
remind me next week
never remind me
Subscribe to the ANN Newsletter • Wake up every Sunday to a curated list of ANN's most interesting posts of the week.
read more
News

Nurse Witch Komugi-chan R TV Anime's Premiere Date, Opening Theme, More Designs Unveiled

posted on by Rafael Antonio Pineda
Anime premieres on January 10; lead voice actresses perform "Ready Go!!" opening theme song
---
The staff of the upcoming Nurse Witch Komugi R (Nurse Witch Komugi-chan R) television anime revealed the anime's premiere date and theme songs, as well as more character designs on Wednesday. The anime will premiere on January 10 on Nippon TV at 2:25 a.m.
Magical R, the vocal unit composed of the anime's lead voice actresses Kei Tomoe, Erii Yamazaki, and Makoto Koichi, will perform the opening theme song "Ready Go!!." The song's single CD is slated for a January 27 release, and will contain the title song, the "Starlight Start" song, and the instrumental versions of both songs. Chel Watanabe wrote, composed, and arranged "Ready Go!!." Genki Mizuno wrote the lyrics to "Starlight Start," with composition and arrangement by Shuhei Matsuki.
The newly revealed character designs include:
Yasuaki Takumi
as Hiroto Tachibana, a popular actor from Kiri Pro. His father is a regular at Yoshida Clinic, and so he is childhood friends with Komugi and treats her like a little sister. He is handsome, but gentle, and he has a different feel from everyone else.

Shizuka Itou as Ai Mitaka, the president of Love Pro. In her younger years, she had worked as an idol and strove to be at the top, but suddenly announced her retirement at 20 years old. She started Love Pro and has not taken the stage since. She has a cool personality, but constantly watches over Komugi and Kokona.


Kenta Miyake as Toransuke Matsukawa, Love Pro's on-site manager. He is boisterous and enthusiastic, and can be slightly annoying, but is a truly caring person. He used to be Ai's manager during her idol days, but went independent along with her when she started Love Pro.


Halko Momoi as Koharu Yoshida, Komugi's mother, and a nurse. She is an easygoing person, and she puts her passion into handmade bento.


Kenji Nojima as Tomoya Yoshida, Komugi's father, and the doctor at Yoshida Clinic. He is calm, skilled, and is popular with patients. He is a kindhearted person who still loves Koharu dearly.


Minami Kabayama as Kōtarō Yoshida, Komugi's little brother, a fifth grader. He is bit rude and obstinate to Komugi, and a fan of Kokona.


Rena Maeda as Misuzu-sensei, Komugi's homeroom teacher, and also an English teacher. She loves pro wrestling, and is quick to show off her moves.


Ryusei Nakao as Film Camera Kaijin, a Kaijin that appears in the first episode.


The previously-announced cast members are:
Idol Kei Tomoe as Komugi Yoshida



Erii Yamazaki as Kokona Saionji




Makoto Koichi as Tsukasa Kisaragi




Hiroyuki Yoshino
as Usa-P, Komugi's partner, who's often nagging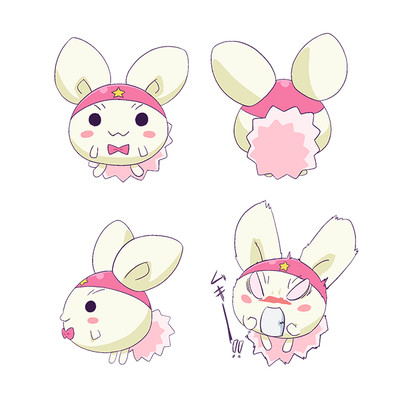 Daisuke Namikawa as Tanu-P, Kokona's partner, who speaks politely but is actually a low-life


Ryota Takeuchi as Neko-P, Tsukasa's partner, who speaks in Kansai dialect


Other additional cast members include:
The official Twitter account also mentioned that the members of the idol group Otome Shintō will make their voice-acting debuts in the show.

Halko Momoi, who voiced Komugi in the previous anime, will play Komugi's mom in the new series. Reflecting the change in character, the new anime's Komugi has a different family name from the previous anime's Komugi (Yoshida is the family name of the founders of Tatsunoko).

The series is listed with 12 half-hour episodes.
The original Nurse Witch Komugi original video anime series began in 2002 as a spinoff of the Soul Taker anime. The Nurse Witch Komugi-chan R television anime will be the first entry in the series since 2004's Nurse Witch Komugi-Chan Magikarte Z OVA.
The new "slapstick" story will depict Komugi-chan and her rivals as they juggle their daily lives as students, idols, and magical girls "with laughter and tears(?)." Tatsunoko will animate their concert sequences with 3D CG.
The official website describes the story:
Komugi Yoshida is a somewhat clumsy second-year middle-school student whose strong point is her spiritedness. She performs as an idol like Kokona Saionji (her classmate and close friend) and Tsukasa Kisaragi (an idol who dresses in male clothing). However, unlike Kokona whose popularity is skyrocketing and Tsukasa with her charisma in male attire, Komugi's only gigs are low-end ones like those at the local shopping district. Still, Komugi has her "dream" as she lives her dual lives as a idol and a middle school girl.

One day, a mysterious injured creature named Usa-P appears before Komugi. Komugi gives Usa-P medical treatment, and Usa-P, in consideration of Komugi's kindness, asks if she wants to be a Legendary Girl who can use magical powers.

Having become a reluctant Legendary Girl, Komugi battles strange masked figures who suddenly appear! As a newly deemed Magical Nurse, she fights still more waves of masked figures. Meanwhile, a Magical Maid, a Magical Sister, and more also appear to make it a three-way battle!? Can Komugi handle the three roles of middle school girl, idol, and Magical Nurse? And, what lies ahead in these battles and her "dream" …!?
Keiichiro Kawaguchi is directing the anime at Tatsunoko Production. Momoko Murakami is supervising the series scripts, and co-writing them with Kazuyuki Fudeyasu. Akio Watanabe is credited for the original Nurse Witch Komugi character designs, and Takao Sano is designing the new anime's characters. Mina Ozawa and Keisuke Goto are the chief animation directors. Yuichi Imaizumi is directing the sound, and Kousuke Yamashita is composing the music.
Source: Animate.tv via Ota-suke
---