News

One Piece: Burning Blood Video Features Boa Hancock, Robin, Nami, Perona In Action

posted on by Rafael Antonio Pineda
Swimsuit costumes for characters available in 1st print copies of April 21 game
---
Bandai Namco Entertainment began streaming a promotional video for its One Piece: Burning Blood PlayStation 4, PlayStation Vita, and Xbox One game on Friday. The video shows the recently revealed Boa Hancock, Nico Robin, Nami, and Perona characters in action.
The video also reveals that "Natsu no Musume" (Summer Girl) swimsuit costumes for Nami, Robin, and Boa Hancock will be available in first print copies of the game, while a similar costume for Perona will be available as a bonus for the digital download version of the game.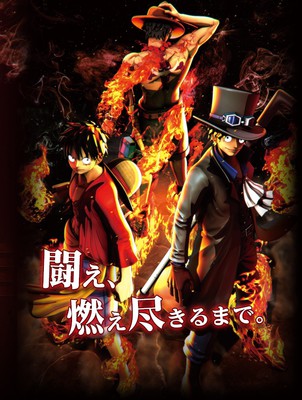 The game will ship in Japan on April 21. The PS4 version will retail for 7,600 yen (about US$63) plus tax and the PS Vita version will retail for 6,800 yen (about US$56) plus tax.
Bandai Namco Entertainment revealed the game in September at the Sony Computer Entertainment Japan Asia press conference. Spike Chunsoft is developing the game. Kōji Nakajima (One Piece: Pirate Warriors franchise, One Piece Unlimited World Red) is producing at Bandai Namco, and Hiroyuki Kaneko and Tairi Kikuchi are serving as director and game designer, respectively.
Bandai Namco Entertainment will also release the game in Europe, North America, and Latin America in 2016 for the PlayStation 4, PlayStation Vita, and Xbox One. Bandai Namco Entertainment plans to release the game in 12 languages: English, French, Italian, German, Spanish, Russian, Polish, Brazilian Portuguese, Neutral Spanish, Traditional Chinese, Korean, and Japanese.
Previously-confirmed characters include: Luffy, Doflamingo, Fujitora, Law, Bartolomeo, Brook, Chopper, X. Drake, Enel, Crocodile, Ace, Sabo, Kuzan, Smoker, Captain Kid, Zoro, Sanji, Usopp, and Franky.
Those who pre-order the game will get a product code to download "Gear 4 Luffy (limited version)" as a playable character. An "anime song sound edition" version of the game will also include 21 theme songs from the anime and from the game. The PS4 version of the special edition will retail for 10,600 yen (US$87) while the PS Vita version will retail for 9,800 yen (US$81).
---