News

Isobe Isobee Monogatari Anime Short Episode Streamed

posted on by Rafael Antonio Pineda
---
Shochiku began streaming an episode of the short anime adaptation of Ryō Nakama's Isobe Isobee Monogatari ~Ukiyo wa Tsurai yo~ (Chronicle of Isobe -The Life Is Hard-) manga on Monday. The short shows protagonist Isobee trying to relax on a Sunday, but failing to find a good posture for relaxing.
A previous issue of Weekly Shonen Jump magazine described the anime as a "mame anime" (bean anime) or "manime" for short. The issue explained that a "mame anime" is a short anime of approximately 30 seconds in length, and stated: "You can start watching it from any episode."
The series premiered online last December. The series is available on the Japanese video streaming services GYAO! and dTV. The manga's official website adds that viewers can watch the anime at the Shinjuku Piccadilly, MOVIX, and SMT cinemas as intermissions, as well as in the Shosen Book Tower and Shosen Grande bookstores, and in Animate stores nationwide. The website also notes that the anime is airing on TV "somewhere, sometimes."
The cast of the anime is as follows:
Daiki Yamashita as Isobee Isobe
Ayumu Murase as Jou Nakajima, Dog, and Ienobu
Chiaki Takahashi as Mother, Dango (sweet dumpling) shop girl, and Iemitsu
Takashi Matsuyama as Gennai Hiraga, Ieyoshi, and Teacher
Raikō Sakamoto as Narrator, Daihachi Shiga, Ieyasu Tokugawa, and Yoshinobu
Mankyū (Tono to Issho, Fist of the North Star: Strawberry Flavor, Donyatsu, [email protected]) is directing the anime.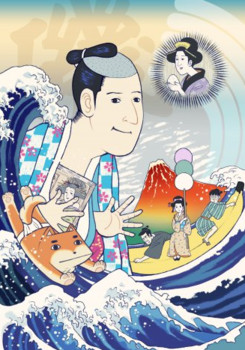 A stage play adaptation of the manga will premiere in April. The play will star Takuya Inoue as Isobee Isobe and Yoshihiro Nakayama as Mother. Kenichi Suemitsu is writing the scripts and directing the play, and Shunsuke Wada is in charge of the music.
Nakama originally published the manga as a one-shot, then he launched the serialized version of the manga in Weekly Shonen Jump in October 2013. Shueisha describes the manga as follows:
A loser samurai—Isobee, who lives in any way a dawdling, slacking life, takes action (sort of) in the city of Edo. Weekly Shonen Jump's gone mad with a new style Ukiyoe Gag Manga!!
Shueisha published the manga's eighth compiled volume on October 3. The ninth compiled volume will ship on February 4.
The series inspired a four-episode series of online Flash anime shorts that premiered in December 2013.
---