News

Nobunaga Concerto Tops Japanese Box Office for 2nd Weekend, Girls & Panzer Grosses 1 Billion Yen

posted on

2016-02-02

04:00 EST
---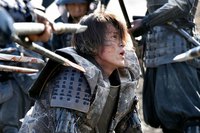 The live-action film of Ayumi Ishii's Nobunaga Concerto historical manga topped the Japanese box office for the second weekend since it opened. The film sold 461,321 tickets, and earned 604,122,100 yen (about US$4.996 million) on 324 screens over the past weekend. The film has sold a cumulative 1.30 million tickets, and grossed 1.7 billion yen (about US$14 million) since opening on January 23. Nobunaga Concerto is projected to gross upwards of 3 billion yen (about US$25 million), since it is tracking 137% higher than starring actor Shun Oguri's last major film, Lupin the 3rd (2.45 billion yen or US$21 million).
Star Wars: The Force Awakens dropped to #3 in its seventh weekend, but still took in 96% of the box office earning it had earned in the previous weekend. The film has earned over 10 billion yen (about US$82 million) as of Sunday, January 31.

The Shuriken Sentai Ninninger vs. Ressha Sentai ToQGer: The Movie - Ninja in Wonderland film dropped from #3 to #6 in its second weekend. 318 theaters screened the film. It is trending at 49.9% of Gekijō-ban Kamen Rider Drive Surprise Feature and Shuriken Sentai Nin'ninger The Movie's double-feature box office total last August, and therefore is expected to eventually reach 600 million yen (US$5.1 million).

Eiga Yo-kai Watch: Enma Daioh to Itsutsu no Monogatari da Nyan!, the second film in the Yo-kai Watch franchise, dropped from #4 to #7 in its seventh weekend in 358 theaters.

The live-action film of Ichigo Takano's Orange manga dropped from #7 to #10 in its eighth weekend in 302 theaters.

The Girls und Panzer film rose from #19 to #11. The film has sold over 700,000 tickets and earned over 1 billion yen (about US$8.44 million) since its November opening 71 days ago.


Kizumonogatari I: Tekketsu-hen, the first film in the trilogy adapting NisiOisin's light novel of the same name, dropped off the top 10 rankings this past weekend.
Sources: Eiga.com, Movie Walker
---