×
remind me tomorrow
remind me next week
never remind me
Just 4 Days Left to Enter the Pumpkin Carving Contest! • The competition is heating up but there's still time to enter for a chance to win over US$1,000 in anime DVDs and swag! Click to find out how!
read more
News

Crunchyroll Adds B-Project, New Game!, Bananya, Hitori no Shita the outcast (Updated)

posted on by Jennifer Sherman
---

Anime News Network's Anime Expo 2016 news coverage sponsored by Yen Press.
---
Crunchyroll announced at its Anime Expo panel on Friday that it has added the B-Project: Kodō Ambitious, New Game!, Bananya, Hitori no Shita the outcast, and Hybrid×Heart Magias Academy Ataraxia television anime series. The media distribution service also announced that it added the Sukedachi 09 and The Grim Reaper and an Argent Cavalier manga.
Crunchyroll also announced at its Anime Expo panel that is will stream Fullmetal Alchemist: Brotherhood this summer. The series will be available with both English subtitles and an English dub.

B-Project: Kodō Ambitious is the television anime of MAGES' fictional male idol project featuring character designs by Devils and Realist creator Utako Yukihiro. T.M. Revolution (Soul Eater, Mobile Suit Gundam Seed theme songs) is serving as the executive producer on the series, and composer/writer Chiyomaru Shikura (Robotics;Notes) is credited with planning and the original work. Eiji Suganuma (Karneval, Sasameki Koto) is directing the series at A-1 Pictures, and Deko Akao (Noragami, Snow White with the Red Hair) and MAGES. are overseeing the series scripts.
The anime's story follows Tsubasa (voiced by Hisako Kanemoto), a new hire in the A&R department of the major recording company Gandala Music. Tsubasa is immediately assigned to oversee the idol unit "B-PROJECT," which is made up of three idol groups: Kitakore, THRIVE, and MooNs. This is Tsubasa's first job, and she gets involved in various incidents and accidents as she deals with this group of young men who each have their own differing personalities.
The anime will premiere on July 2 on Tokyo MX, ABC Asahi Broadcasting, Gunma TV, Tochigi TV, and BS11.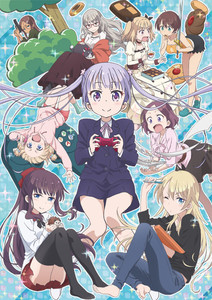 The New Game! television anime adapts Shōtarō Tokunō's manga of the same name. Yoshiyuki Fujiwara (Plastic Memories, GJ Club) is directing the series at Doga Kobo (Luck & Logic, Himouto! Umaruchan).
In the workplace manga, the main character Aoba Suzukaze graduates from high school and joins a game company. The person who made the game that Aoba loved as a grade-schooler just happens to be Aoba's senior at the company. The story follows girls who work and aspire at the Eaglejump company.
The anime will premiere on AT-X on July 4.

Bananya will begin streaming on Crunchyroll on July 4. The short television anime adapts Q-Lia's Bananya banana cat mascot character. Kyō Yatate (Sockie's Frontier Quest) is directing the anime at TMS Entertainment and Gathering. Yatate is also scripting and producing the anime alongside Masahiro Takata (Super Seisyun Brothers director, scriptwriter).
Q-Lia launched the Bananya mascot character last year.
The anime will premiere on TV Saitama on July 4 at 8:55 p.m., with five minutes per episode.

Hitori no Shita the outcast will premiere on Crunchyroll on July 9. The television animation is based on a Chinese web comic. Shanghai Emon is planning the anime, and animation production will take place in Japan.
Emon describes the story:
The protagonist, Cho Soran, leads a very common college student's life until he finds himself caught up in a terrible incident that happened in a small village. As he was walking through a graveyard, Cho Soran is assaulted by zombies. Thinking that it was over for him, a mysterious girl carrying a sword suddenly saves him and disappears.
This strange encounter is going to change drastically the fate of our hero.
Tokyo MX will air a special "episode 0" on July 2, and Tokyo MX1 will premiere the first episode on July 9 at 9:00 p.m.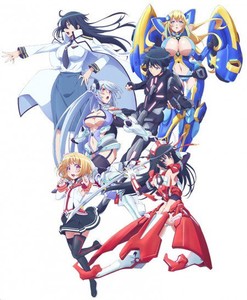 Hybrid×Heart Magias Academy Ataraxia (Masō Gakuen H×H) will premiere on Crunchyroll on July 5. The television anime adapts Masamune Kuji's light novel series. Hiroyuki Furukawa (My Wife is the Student Council President) is directing the series at Production IMS, and Yasutomo Yamada (Venus Versus Virus, Motto To Love Ru) is overseeing the scripts.
The "ultimate battle action" story centers around Kizuna Hida, who visits the strategic defense academy Ataraxia at his big sister's request. "There, he encounters Aine Chidorigafuchi, a girl piloting the magical armor Zerosu. Aine suddenly pulls off her clothes before Kizuna's eyes. 'Don't look, you pervert—' 'No, you're the one!?' However, a communique about a serious mission arrives from Kizuna's sister. The mission — to rub Aina's chest!? Actually, Kizuna has the power to level up a girl through indecent acts. With a battle against another world, the future depends on this power."
The anime will premiere on AT-X on July 5.

Crunchyroll announced earlier on Friday that it also added the DAYS soccer anime to its summer lineup. The series will begin streaming on Saturday at 3:30 p.m. ET. The anime will be available to Crunchyroll members in North America, Latin America, the Netherlands, Scandinavia, South Africa, the United Kingdom, Ireland, Australia, New Zealand, the Middle East, and North Africa.
The television anime adapts Tsuyoshi Yasuda's soccer manga. Kônosuke Uda (One Piece, Ginga e Kickoff!!, Majin Bone) is directing the anime at MAPPA (Terror in Resonance, Rage of Bahamut Genesis). Kazuto Nakazawa (El-Hazard: The Wanderers, The Legend of Black Heaven, Terror in Resonance) is designing the characters for animation.
The manga centers on two boys who were never meant to meet: Tsukushi Tsukamoto, who has no special skills but secretly hides a passionate heart, and Jin Kazama, an isolated soccer genius. On a stormy night, the two meet, and that meeting creates a whirlwind in the world of high school soccer.
The anime will premiere on MBS on July 3 at 2:58 a.m.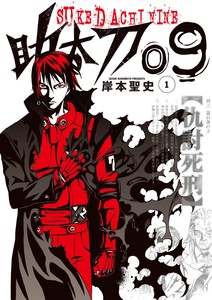 Seishi Kishimoto launched his Sukedachi 09 (Assist Nine) manga in Square Enix's free online web magazine Gangan Online and Shonen Gangan in 2014. The series will end in the August issue of Shonen Gangan on July 11. Square Enix released the fourth compiled book volume in Japan this on March 22 of this year.
In the Edo era, revenge was allowed in one-on-one duels. In 2015, a huge rise in murder incidents has prompted the government to reenact the "revenge penalty," which states that a killer may be executed in the same manner as their victim. Because one-on-one battles are dangerous, a special execution team is formed to protect the general populace and assist (sukedachi) with revenge. The members of this team are called the "Sukedachinin" (Assist People).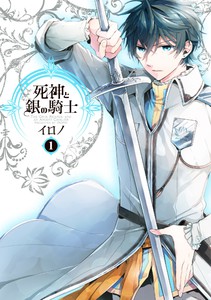 Irono launched the Shinigami to Gin no Kishi (The Grim Reaper and an Argent Cavalier) manga in Square Enix's GFantasy magazine in 2014. Square Enix released the fourth compiled book volume in Japan on June 27.
In the story, the Grim Reaper consumes peoples' souls to gain immortality. He released Larvae into the world to help him collect souls. Cyan is a former holy knight of the Argent Cavaliers, who are devoted to eradicating Larvae. Cyan leaves the Argent Cavaliers to personally hunt down the Grim Reaper and destroy the source of the Larvae.
Update: Crunchyroll confirmed premiere dates and territories for all of its newly announced anime:
B-Project: Kodō Ambitious: 1:00 p.m. ET on July 2 for members in the United States and Canada
New Game!: 1:00 p.m. ET on July 5 for members worldwide outside Asia
Bananya: Crunchyroll announced during its panel that the anime would premiere on July 4. However, the website only lists a summer release window with times and territories to be announced later.
Hitori no Shita the outcast: 9:30 a.m. ET on July 9 for all members outside China, Japan, and Korea
Hybrid×Heart Magias Academy Ataraxia: 2:00 p.m. ET on July 5 for members worldwide outside Asia
---