×
remind me tomorrow
remind me next week
never remind me
Subscribe to the ANN Newsletter • Wake up every Sunday to a curated list of ANN's most interesting posts of the week.
read more
News

Ayane Performs Opening Theme For Japanese/Chinese Soul Buster Anime

posted on by Justin Piselli
---

Singer Ayane announced on Twitter on Wednesday that she will perform the opening theme song titled "SOUL BUSTER" for the upcoming Soul Buster anime. Chiyomaru Shikura is writing the song lyrics and composing the tune, while Akira Okuyama is handling the arrangement.
Ayane has previously performed theme songs for W~Wish, Ayakashi, and Hyperdimension Neptunia television anime series as well as the Steins;Gate Fuka Ryōiki no Déjà vu anime film.
Soul Buster is an adaptation of Bai Mao's Chinese action comic of the same name. Studio Pierrot and Chinese streaming site Youku Tudou are co-producing the series. There will be 12 episodes, with 15 minutes per episode. It will premiere in Japan on Tokyo MX and BS11 on October 4, and on MBS in November, and will also simulcast in China.
The comics are based on the classical Chinese novel The Romance of the Three Kingdoms, and are set in present-day China, where famous figures from history and the novel can be summoned using cards. The story centers on high school student Son Shin and historical figure Zhou Yu, who has been revived in the present day. The anime will include the themes The Romance of the Three Kingdoms, "battle," "school," and "card games."
The cast includes:
(The Japanese phonetic pronunciations are written in italics, and Chinese pronunciations written in plain text — romanizations are not official.)
Takahiro Mizushima as Son Shin, a high school student who hates studying China's Warring States period. Though he's a coward, he is surprisingly smart and possesses a sense of responsibility. An event in his dream triggers the seal that begins to erase the history of the Warring States, and he becomes embroiled in a new battle between the three kingdoms.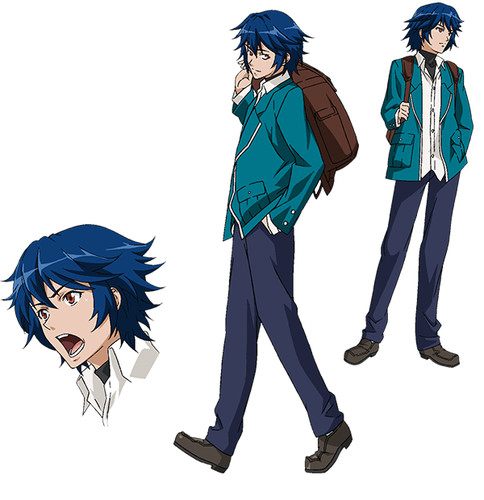 Rui Tanabe as Zhou Yu (Shū Yu), a former general of the Wu during the Warring States period, whose strategies left their mark on history. Bound by some fate to be the one chosen for Son Shin, she travels with him, but does not recognize Son Shin as her master. Despite being beautiful, she has little taste for femininity.

Seira Ryū as Ryō Un, Son Shin's classmate, and a beautiful honors student. Her family has watched over the Southern Palace for generations, and she treats others as rigidly as she treats herself as successor to that duty. She favors reason over passion, and can sometimes come off as cold in her judgments.

Other cast members include:
The Anime! Anime! industry news website is streaming a promotional video for the anime.
Kobun Shizuno (Knights of Sidonia, Detective Conan movies 15-20) is credited as overall director, while Odahiro Watanabe is making his directorial debut with the series at Studio Pierrot. Masaya Honda (Karas, Tachumaru Gekijō) is supervising the series' scripts. Tsutomu Miyazawa (Samurai Girls) is designing the characters. Tsutomu Miyazawa (Samurai Girls), Masaaki Sakurai (Monster), and Ippei Ichii (Valkyrie Drive: Mermaid-) are credited as chief animation directors. Toru Koga (No-Rin) is the art director.
Other staff members include:
Prop Design: Hiroyuki Taiga (Dragonaut - The Resonance, Kurenai, Sengoku Collection)
Effects Supervisor: Takashi Hashimoto (Virgin Fleet, One Piece Film Z, Puella Magi Madoka Magica The Movie Part 3: Rebellion)
Color Design: Yoshimi Kawakami (Wolf Girl & Black Prince, Aria the Animation, Umi Monogatari)
Director of Photography: Shigeteru Asakawa (Samurai Girls, Servamp, Wanna Be the Strongest in the World)
Editing: Hiromi Sasaki (Onigiri, Samurai Bride, Aesthetica of a Rogue Hero)
Sound Director: Katsunori Shimizu (Ikki Tousen: Dragon Destiny, Kite: Liberator, The Perfect Insider)
Music: Akiyuki Tateyama (SHIMONETA: A Boring World Where the Concept of Dirty Jokes Doesn't Exist, Kuma Miko: Girl Meets Bear)
Music Production: MAGES.
---