News

Fūka Anime Reveals More Cast, Opening Theme Artists

posted on by Crystalyn Hodgkins
---

This year's 52nd issue of Kodansha's Weekly Shonen Magazine is revealing more cast and theme song information on Tuesday for the anime of Kouji Seo's Fūka manga.
The additional cast includes Kanako Mitsuhashi as Suzuka Akitsuki and Daisuke Nakamura as Yamato Akitsuki. The two cast members are reprising their roles from the Suzuka anime.
The anime's opening theme song is "Climber's High" by "Hedgehogs," the name of a band in the original manga series. Seo is writing the lyrics for the song, and it marks the first time he has written song lyrics. West Ground is composing the song, and SHO from MY FIRST STORY is arranging the song.
The Hedgehogs band performing the song is made up of various famous musicians. SHO is playing guitar, T$UYO$HI from The BONEZ is playing bass, Hirotaka Takahashi from ELLEGARDEN is playing drums, and the anime's composer Takurō Iga is playing keyboard. Manami Numakura, who is also voicing Hedgehogs band member Tama in the anime, will sing the song.
The anime's official website will stream a new promotional video soon that will preview the opening theme song.
The previously revealed cast for the series includes:

Lynn as Fūka Akitsuki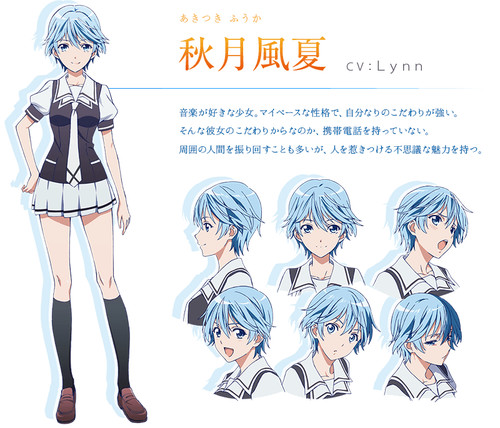 Saori Hayami as Koyuki Hinashi

Yūsuke Kobayashi as Yū Haruna

Mikako Komatsu as Sara Iwami

Sōma Saitō as Makoto Mikasa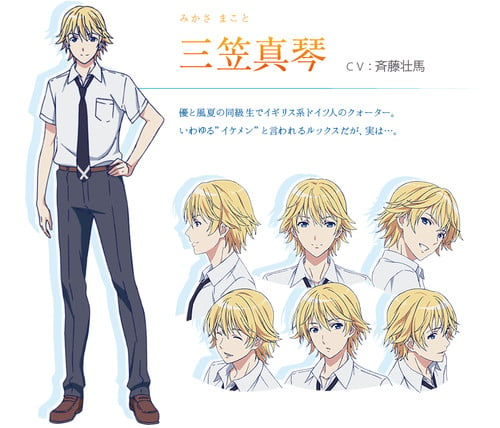 Kazuyuki Okitsu as Kazuya Nachi

Mikako Takahashi as Mayu Haruna
Saori Ōnishi as Hibiki Haruna
Kaede Hondo as Chitose Haruna
Yōko Hikasa as Tomomi-sensei
Keizou Kusakawa (KanColle, Magical Girl Lyrical Nanoha A's) is directing the anime at diomedea (Squid Girl, Handa-kun). Aoi Akashiro (Endride, KonoSuba) is in charge of series composition, and Yoshino Honda (The Lost Village, Astarotte's Toy animation director) is designing the characters. Takurō Iga (Aria the Scarlet Ammo Double A, Yuyake Dandan shorts) and West Ground (The Asterisk War: The Academy City on the Water, KanColle theme song composition) are composing the music.
The series will air on the MBS, Tokyo MX, BS11, and WOWOW channels in Japan.
The story centers on a young man named Yū Haruna who has just switched schools. He's a bit shy, and he's constantly glued to his smartphone so he can check Twitter. He meets a girl named Fūka Akitsuki, who doesn't even have a cell phone, is free-spirited, and naturally fascinates others. Yū recently has been getting back in touch via Twitter with his childhood friend Koyuki Hinashi, who is now a popular singer. One day Yū invites Fūka to one of Koyuki's concerts, and there the three meet for the first time. The story follows the love triangle between a love that started through electronics, and a love that didn't start through electronics. Fūka is the daughter of the protagonists from Seo's earlier manga Suzuka.
---