×
remind me tomorrow
remind me next week
never remind me
ANN Reader Survey • If you haven't had a chance yet, please fill out our annual survey, It's so helpful to us. As a thank you for filling out this massive survey, we're giving away 100 ANN subscriptions to people who fill it out.
read more
×
remind me tomorrow
remind me next week
never remind me
Subscribe to the ANN Newsletter • Wake up every Sunday to a curated list of ANN's most interesting posts of the week.
read more
News

Anime Tamago 2017 Shorts Previewed in Long 2nd Promo Video

posted on by Crystalyn Hodgkins
4 shorts to screen at event on March 11, in Tokyo from April 22-28
---
The official website of the "Anime Tamago" (formerly "Anime Mirai") project began streaming a long version of the second promotional video on Monday for this year's four shorts.
The shorts will screen at the Ikebukuro HUMAX Cinemas theater in Tokyo on March 11, as part of the Tokyo Anime Award Festival. Additionally, Theatre Shinjuku in Tokyo will screen the shorts from April 22-28.
As in previous years, the anime shorts will train young animators on-the-job as part of the Japanese government's Agency of Cultural Affairs' "Young Animator Training Project."
This year's four shorts include:

Studio Comet
Title: "Charanpo Land no Bōken" (The Charanpo Land Adventure)
Synopsis: At the far end of the Southern Seas, where none had dared to go, there exists an island called Charanpo Land. At the center of that island is a giant baobab tree, which produces many eggs each day. Inside the eggs are food, clothing, and other daily necessities. The inhabitants of the island live carefree lives, dependent upon the eggs.
But lately, more and more of the eggs have been turning up empty, which makes the inhabitants uneasy. Then one day, with a thunderous crash, and an explosion of rainbow-colored light, the baobab tree produces an egg of curious appearance. The next morning, the village chief Poncho tells the inhabitants that they must find that egg. Now the tiger Kometora and a group of children must find the egg within the forest.
Director: Shin Misawa
Producer: Shunichi Ozao
Animation Director: Tatsuo Honda
Character Design: Narumi Shimoji

Image credit: © Studio Comet / Agency for Cultural Affairs, Government of Japan AnimeTamago2017

Chika Sakamoto as Kometora


Hitomi Ohwada as Pyon


Fukushi Ochiai as Gunma


Ikuji Nose as Professor Akan


Taketora as Poncho


Sayaka Ohara as the Spirit of the Baobab Tree



Studio 4°C
Title: "Red Ash -Gearworld-" (formerly listed as "Red Ash -Magicicada-")
Synopsis: In a futuristic world, the "Nanorace," people whose genes contain nanomachines that grant them special abilities, are controlled and suffer prejudice from the "Purerace" of normal human beings. Beck, a legendary hunter with the power of "Red Ash," aims to undergo the surgical procedure to become Purerace. Alongside the large yet timid mechanic Tyger, they use their parallel machine to fly to the old world, doing dangerous jobs.
One day, they suddenly run into Call, a girl pursued by the duo of Safari and Stripe. Call, Beck, and Tyger together travel to the clockwork world. But Safari, Stripe, and their leader Deny, stubbornly pursue Call, and are finally in a position to make their attack on Beck and his friends.
Director: Yuta Sano
Producer: Yuka Hisae
Animation Director: Yasuyuki Shimizu
3D Animation Director/Character Designer: Chiaki Imanaka
Image credit: © Beyond C. / Agency for Cultural Affairs, Government of Japan AnimeTamago2017

Fumiko Uchimura as Call



Nippon Animation
Title: "Genbanojō"
Synopsis: In a cone-shaped land named Kikyōgahara in Shin Province, there lives a girl named Hana. She is a gentle girl, who always thinks of her family, in particular her great-grandmother Chiyo, whom she affectionately calls "Granny." One day, a traveling entertainment troupe named the Natsugawa Genzaemon Troupe happens by, and the villagers welcome them warmly. Upon finishing their performance and receiving their acclaim, the troupe's leader spots Hana with some "oyaki," his favorite food, and transforms into a fox in his excitement.
It turns out that the leader Genbanojō, and his companions O-Natsu and Shinzaemon, are all foxes who have taken on human forms. Genbanojō hastily negotiates with Hana, telling her that in exchange for keeping their secret, he will grant her one wish. She answers, "I want to let my Granny see the cherry blossoms."
Director: Takumi Dōyama
Producer: Yū Furukubo
Animation Director: Hirofumi Nakata
Character Designer: Shin Takemoto
Image credit: © NIPPON ANIMATION CO., LTD. / Agency for Cultural Affairs, Government of Japan AnimeTamago2017

Katsuyuki Konishi as Genbanojō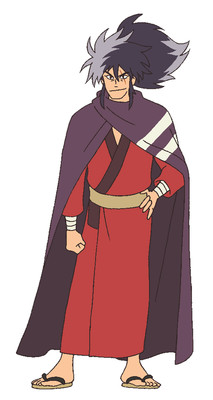 WAO Corporation, Studio Live, SSS-Studio collaboration
Title: "Zunda Horizon"
Synopsis: Zunko Tohoku can make any mochi into delicious zunda mochi by shooting it with her Zunda Arrow. Along with Kiritan Tohoku, Itako Tohoku, Usagi Chūgoku, Metan Shikoku, and Sora Kyushu, she enjoys eating zunda mochi while being full of happiness.
Chanko Ōedo conversely leads the Natto Factory along with her companions Tsurugi Chubu, Shinobi Kansai, Awamo Okinawa, and Meron Hokkaido. Even though zunda and Natto use the same type of bean, the edamame used in zunda and the soy beans used in Natto are harvested at different times, with edamame being harvested first. As a result, the members of the Natto Factory are afraid of a decrease in the quantity of soybeans harvested. Chanko sends Awamo Okinawa and Meron Hokkaido to Zunko's house to assassinate her, but a third power makes their appearance.
Director: Hiroshi Takeuchi
Producer: Kiyomitsu Aoki, Sakiko Okutsu
Original Character Design: Ninico Edomura
Animation Director/Character Designer: Risa Suzuki
Image credit: © SSS・STL・WAO / Agency for Cultural Affairs, Government of Japan AnimeTamago2017

Satomi Satou as Zunko Tohoku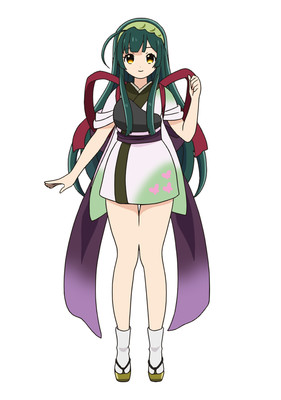 Himika Akaneya as Kiritan Tohoku


Ibuki Kido as Itako Tohoku


Rika Momokawa as Usagi Chūgoku


Koyuki Tanaka as Metan Shikoku


Nozomi Nishida as Sora Kyushu


Maria Sashide as Chanko Ōedo


Ayano Hamaguchi as Tsurugi Chubu


Ayaka Imamura as Shinobi Kansai


Aoi Koga as Awamo Okinawa


Ayaka Shimizu as Meron Hokkaido


The Third Power "The Mysterious Black Being" (no voice cast revealed yet)


Yuina Itō as Zundamon


This year's selection committee consists of:
Studio 4°C's "Red Ash -Gearworld-" short is the only 3D CG short in the selection. The game company Comcept held a successful Kickstarter fundraising campaign for this project as a tie-in to its Red Ash: The Indelible Legend game in 2015.
"Zunda Horizon" is based on an original character created by SSS-Studio named Zunko Tohoku, to support the victims in the Tohoku region of the Tohoku earthquake and tsunami. Ninico Edomura created the character, but she is copyright free, so anyone can use the character for free without needing permission from SSS to do so. Zunko Tohoku was part of a successful crowdfunding campaign in 2013 to create Vocaloid software for the character. SSS launched a successful Kickstarter campaign for the character in 2015 to create a manga and illustration book.
Apart from Studio 4°C, all participant studios are new to the Anime Tamago project. The short between WAO Corporation, Studio Live, and SSS-Studio is also the first time the project has accepted a collaborative production.

The Japanese government's Agency of Cultural Affairs launched its "Young Animator Training Project" in 2010 with the aim of fostering the growth of domestic animation studios, and tackling the concern that more of the Japanese animation process is being outsourced overseas. The project has spawned such works as Little Witch Academia and Death Billiards (which inspired the Death Parade television anime). The Anime Tamago 2016 shorts were all shown through various Japanese television channels and cinema screenings, as well as through streaming on the Bandai Channel site last March.
Five previous Anime Tamago and Anime Mirai works shipped on DVD in September. Sales benefited the relief effort from last year's earthquake in Kumamoto.
---