News

5th Black Butler Musical Reveals Main Visual, Cast Visuals

posted on by Crystalyn Hodgkins
Yūta Furukawa, Reo Uchikawa reprise roles for musical running from December-February
---
The official website for Musical Kuroshitsuji - Tango on the Campania, the fifth stage musical adaptation of Yana Toboso's Black Butler manga, revealed the musical's main visual and two character visuals on Saturday.

The musical stars:
Yūta Furukawa as Sebastian Michaelis


Reo Uchikawa as Ciel Phantomhive


Both actors are reprising their roles from the previous musical.
The new musical adapts the story of the manga's "Gōka Kyakusen" (luxury liner) arc, which appeared in the 11th through 14th volumes of Toboso's original manga. The same arc was recently adapted into the Black Butler: Book of the Atlantic (Kuroshitsuji: Book of the Atlantic) anime film.
The musical will run at Tokyo's Akasaka ACT Theater from December 31, 2017 to January 14, 2018. The musical will then run at Hyogo's Kobe Kokusai Kaikan Kokusai Hall from January 19, 2018 to January 22, Aichi's Konan City Community Hall from January 26 to 28, Ishikawa's Honda no Mori Hall from February 3 to 4, and Fukuoka's Kurume City Plaza from February 10 to 12.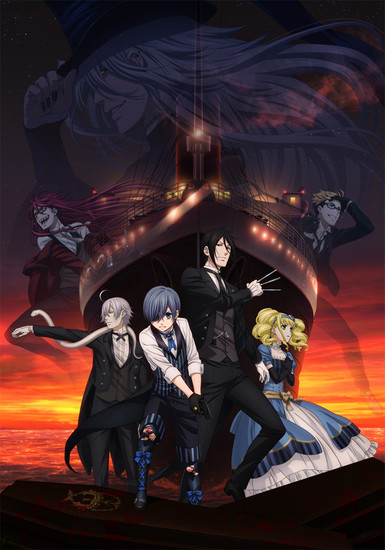 Funimation screened the Black Butler: Book of the Atlantic film theatrically in select theaters in North America, and it describes the film:
Ciel Phantomhive and his demonic butler, Sebastian, are back! And this next case has Ciel and Sebastian treading some rough waters. Aboard the luxury liner Campania, the two investigate an illegal human experiment that involves resurrecting the dead. But the closer they get to the truth, the closer they are to their own deaths! Will this be their final case or will one hell of a butler keep them afloat?
The film opened in Japan on January 21. Funimation screened the film on June 12 (with subtitles) and June 14 (dubbed).
The fourth stage musical adaptation of the manga, based on the manga's "Circus Arc," ran in Tokyo last November, and then in Fukuoka, Hyogo, and Aichi in December.
Sono Shitsuji, Yūkō (That Butler, Friendship), the first Black Butler musical, ran in Tokyo in 2009. The second musical, Musical Kuroshitsuji- The Most Beautiful DEATH in The World- Sen no Tamashii to Ochita Shinigami (Musical Black Butler: The Most Beautiful Death in The World – A Thousand Souls and The Fallen Grim Reaper), debuted in 2010 and had a second run in Tokyo in May 2013 and in Osaka in June 2013. The third musical ran in Tokyo in September 2014 and in Osaka in October 2014. That musical had additional runs in November and December 2015 in Osaka, Miyagi, Tokyo, and Fukuoka, as well as the first overseas performance of the musicals in Shanghai, Beijing, and Shenzhen in December 2015.
Source: Comic Natalie
---