News

Natsume's Book of Friends Film Reveals Staff, Cast, Title

posted on by Karen Ressler
Main cast returns for film with original story
---
This year's May issue of Hakusensha's LaLa magazine announced on Saturday that the anime film for Yuki Midorikawa's Natsume's Book of Friends (Natsume Yūjin-Chō) manga will premiere on September 29 in Japan. The film's title is Gekijōban Natsume Yūjinchō ~Utsusemi ni Musubu~ (Natsume's Book of Friends the Movie: Tied to the Temporal World), and it will feature an original story written under Midorikawa's supervision.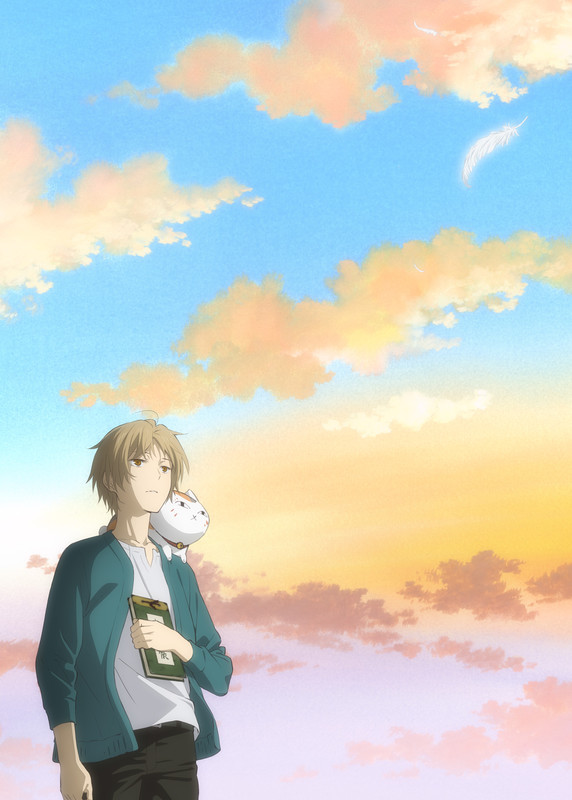 The returning cast includes:
Hiroshi Kamiya as Takashi Natsume
Kazuhiko Inoue as Nyanko-sensei
Sanae Kobayashi as Reiko Natsume
Akira Ishida as Shūichi Natori
Kazuma Horie as Kaname Tanuma
Ryohei Kimura as Satoru Nishimura
Hisayoshi Suganuma as Atsushi Kitamoto
Miyuki Sawashiro as Jun Sasada
Rina Satou as Tōru Taki
Miki Itou as Tōko Fujiwara
Eiji Itō as Shigeru Fujiwara
Satsuki Yukino as Hiiragi
Akemi Okamura as Hinoe
Takaya Kuroda as Misuzu
Chō as Chobihige
Takashi Matsuyama as One-Eyed Middle Class Yōkai
Hiroshi Shimozaki as Ox-Faced Middle Class Yōkai
Kyouko Chikiri as Kappa
Animation studio Shuka returns from the television anime's fifth and sixth seasons to animate the film. Takahiro Ōmori is again serving as chief director, but Hideki Ito is the new director. Sadayuki Murai is again handling series composition, Tatsuo Yamada is returning for yōkai design, and Makoto Yoshimori is again composing the music. Other returning staff members include:
Sub Character Design: Hiromitsu Hagiwara
Art Director: Yukihiro Shibutani
Color Setting: Hiromi Miyawaki
Editing: Kazuhiko Seki
Photography: Hitoshi Tamura and Tetsuya Kawada

The anime seasons and Midorikawa's original manga revolve around Natsume, a boy who has been able to see yōkai since he was little. Unfortunately, humans shun him, and there is not much fondness between him and yōkai either. One day, he inherits a Yūjin-Chō ("Book of Friends") from his grandmother. The book is actually full of contracts that his grandmother made to trap yōkai. As one yōkai after another shows up, Natsume tries to release or help them — even while many of them seek vengeance on him.
Natsume Yūjin-Chō Roku, the sixth anime season, aired for 11 episodes starting in April 2017. Crunchyroll streamed the series as it aired. The anime's fourth and fifth home video releases bundled two new original video anime (OVA) episodes in September and October. Crunchyroll is streaming both OVAs.
Crunchyroll is also streaming the previous five seasons of the anime. Viz Media is releasing Midorikawa's original manga in English.
Update: The official website has posted a key visual.
---