News

Dropkick on My Devil! Anime's Video Reveals Opening Song, July Premiere

posted on by Rafael Antonio Pineda
Manga also gets smartphone, PC game
---
The official Twitter account for the television anime adaptation of Yukiwo's Jashin-chan Dropkick (Dropkick on My Devil!) manga revealed a new video for the anime, as well as the anime's July premiere. The video previews the anime's opening theme song "Ano Ko ni Dropkick" (Dropkick to that Girl), performed by Aina Suzuki, Nichika Omori, Miyu Kubota, Yurie Kozakai, Chiaki Omigawa, Rico Sasaki, and Riho Iida as their respective characters. The anime's site also revealed a new visual.

The manga will also get a free game within the smartphone and PC RPG Atsumaru app titled "Jashin-chan Dropkick: Wakiaiai Satsubatsu Battle!" (Dropkick on My Devil! Peaceful Bloodthirsty Battle!). In the game, players control Yurine as they attempt to hit an attacking Jashin-chan. It will also have a collection of mini-games.
The anime will air on BS Fuji and other channels. The show will stream exclusively on Amazon Prime Video, but the staff hasn't specified in which regions the anime will stream. Episodes will be 30 minutes long.
The cast includes: (Note: Some character name spellings are not confirmed.)
Aina Suzuki as Jashin-chan
Nichika Omori as Yurine Hanazono
Miyu Kubota as Medusa
Yurie Kozakai as Pekora
Chiaki Omigawa as Minos
Rico Sasaki as Poporon
Riho Iida as Persephone the Second
Natsuko Hara as Mei Tachibana
Kazusa Aranami as Yusa
Miko Terada as Kōji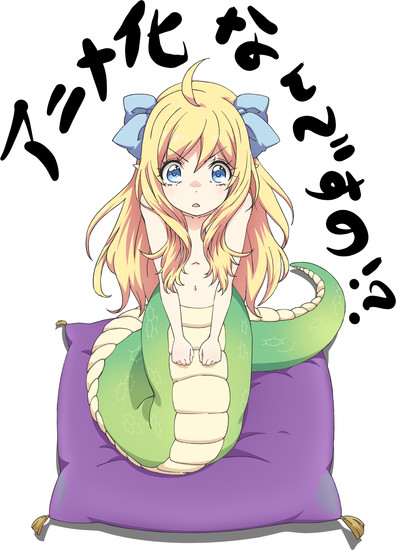 The comedy manga centers on Yurine Hanazono, a college student who summons Jashin-chan, a demon from the underworld. Now they must live together in a run-down apartment in Tokyo's Jinbōchō district. If Yurine dies, Jashin-chan gets to go back to the underworld, so she constantly plots to kill Yurine.
Yukiwo launched the manga in Flex Comix's web magazine Comic Meteor in April 2012. Holp Shuppan released the manga's ninth compiled book volume last December.
Yukiwo illustrated Takeru Kasukabe's NouCome (My mental choices are completely interfering with my school romantic comedy) light novel series. The novel series inspired a television anime in 2013. Crunchyroll streamed the anime as it aired and Sentai Filmworks released the series on home video.
Yukiwo also drew the manga of Lump of Sugar's Tayutama - Kiss on My Deity visual novel in 2009, which also inspired a television anime that same year. Yukiwo launched a new manga titled God Chance in Kadokawa's Comic Cune magazine last August.
Source: MoCa News
---