News

Ore no Nōnai Sentakushi ga, Gakuen Love Come o Zenryoku de Jama Shiteiru Light Novels Get Anime

posted on by Egan Loo
School romantic comedy of boy cursed with power to choose how reality unfolds
---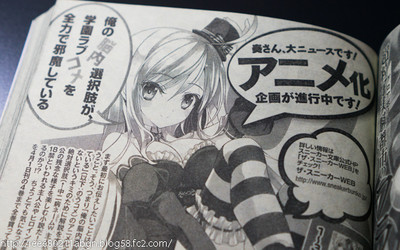 The May issue of Kadokawa Shoten's Monthly Shōnen Ace magazine is announcing on Tuesday that an anime adaptation of Takeru Kasukabe's Ore no Nōnai Sentakushi ga, Gakuen Love Come o Zenryoku de Jama Shiteiru (My Mental Multiple-Choice Power Is Completely Ruining My School Romantic Comedy) light novel series is in the works.
The story centers around Kanade Amakusa, a boy cursed with the mental power of "absolute multiple-choice" — a multiple-choice quiz will suddenly appear in his mind, and the choice he makes will become his reality. For example, he would have to choose between going nude from the waist up or the waist down in school. While in school, he is given another choice: 1) A beautiful girl will fall before him or 2) he will fall from the rooftop in female clothes. He chooses option 1, and a blonde girl named Chocolat falls before him.
Kasukabe launched the light novel series in 2012 with art by Yukiwo, and The Sneaker Bunko label published the third volume last October. Ituki Sayaka is adapting the story into manga on Famitsu Comic Clear website.
[Via IEE802.11]
Update: Punctuation fixed. Thanks, Juhachi
---